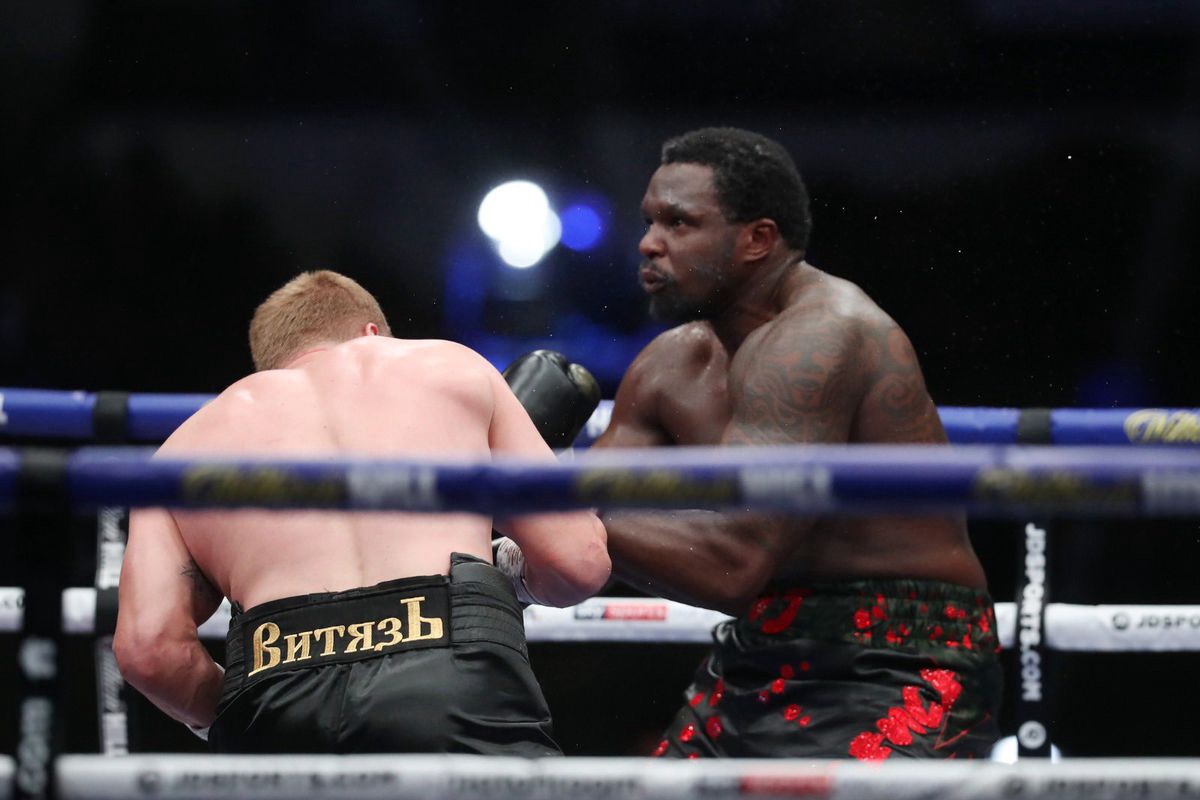 Mark Robinson/Matchroom Boxing
Whyte's Privilege Runs Out
By Babajide Sotande-Peters on Sunday, August 23, 2020
Whilst large sections of the world have been debating the merits of white privilege, in boxing's glamour division, many failed to grasp the concept of Whyte privilege – a phenomenon which had seeped through into the mainstream British boxing psyche over the past 24 months.
For in boxing, it is never enough to just be a fighter who has risen from the obscure small hall circuit to reach the big stage. Nor is it realistic to ask that narratives are not bent and rules are not broken in a prizefighters pursuit of gold. There have been one too many beneficiaries of favourable and sympathetic coverage by fans and media, but there was something particularly egregious of the coverage that South London heavyweight contender Dillian Whyte received.
The 32-year-old is in many ways the product of a landscape which favours sensationalism over substance. As limited in the ring as he is loquacious outside of it, Whyte found himself on the edge of title contention after putting together a string of victories, following a knockout loss to current unified champion Anthony Joshua for the British title in 2015. Even then, Whyte was a man drafted in on the merits of a storyline between the two which dated back to their early amateur days as opposed to professional merits. However, if you get to the dance, you must do everything to try and stay there. In defeat on that evening, Whyte certainly displayed the gallantry which would make viewers tune in again for the right matchups. And tune in they did, allowing him to build both a strong following and stronger mystique.
Once Whyte battled and blagged his way up the world rankings, he was faced with a choice: either compromise like many had done before, take short term hits and take eliminators (or even an offer for a rematch with Joshua) in order to realise a somewhat unlikely dream, or continue to bide his time for an opportunity on his own terms whilst making decent bank as the premier attraction on PPV events riding on the coattails of British boxing's commercial resurgence.
Not only did he pick the latter, but with the help of a powerful broadcaster (whose coverage of his fights at best bordered on overzealous partisanship) and a promoter who'd sell an organ if it meant a surge in buy rates, the facade that he was a man wronged by the sport and avoided by the division's figureheads persisted. "1000 days as mandatory challenger" was bellowed ad nauseam all fight week, from those either being paid to proactively push an agenda or by those who had fallen hook, line and sinker for said agenda.
Even when, all of 13 months ago, a hard-fought decision victory over fellow fringe contender Oscar Rivas was marred by revelations of an anti-doping violation (the second of Whyte's career) and allegations of cheating made by Rivas's team. For a less amiable figure, such claims would see one pushed to the back of the queue for lucrative opportunities, however with the right lawyers and PR, the scandals of midsummer '19 only served to strengthen Whyte's privilege within the division.
Which brought us to yesterday evening, Whyte extolled as the key showpiece of Matchroom's Fight Camp August series, which delivered a mix of vintage Eddie Hearn bluster and (to his credit) largely entertaining back and forth brawls. Already guaranteed a world title shot early next year, Whyte decided to go for a trip into the shamefully dubbed Matchroom Square Garden, where, in the form of Alexander Povetkin, he collided with some poison oak.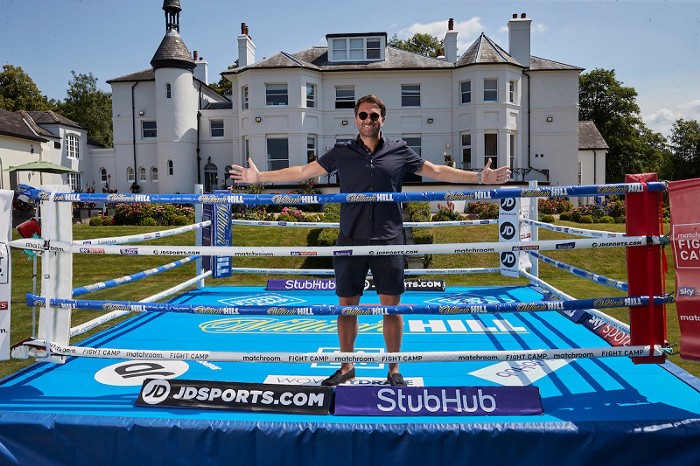 Credit: Mark Robinson / Matchroom Boxing
Taking on the crafty Povetkin, a former Olympic gold medalist and ex contender was always a gamble, but with the Russian's advancing years and diminishing leg strength, it was a very well calculated one, sweetened by the privilege of main event billing and riches which are simply unavailable to contenders waiting for their shot at gold. And as Whyte showcased his jab, body punching and the mythical touch of death also known as his counter left hook (dropping Povetkin twice in the fourth), the (mandatory) coronation party was already commencing.
But all the offensive tools in the world cannot help you if you choose to lean forward with your entire body weight and your head in front of your front feet against a man with knockout power. Second-tier contenders such as messers Chisora, Parker and Rivas bounced Whyte's head around its axis and had him and his unfounded reputation as the divisional boogeyman teetering perilously on edge of freefall. And with a picturesque left uppercut, Povetkin was able to sweep the tightrope from underneath Whyte's legs whilst salvaging his own career, after having been staring squarely at the exit door in the opening 12 minutes of this affair. Povetkin celebrated with the sort of lethargy seen by a famished traveller reaching land after a mountain hike.
The great irony is that the 40-year-old Russian is not without his own skeletons, flagged for two doping violations in the space of 8 months in 2016. Unlike Whyte, Povetkin did face a temporary period of ex-communication from boxing after the second violation. But with the help of his own privileges and veteran ring craft, he slowly emerged from pariah status to become a viable opponent for the up and coming crowd of big men. Putting himself in pole position to cash in on what's left in his rapidly depleting tank.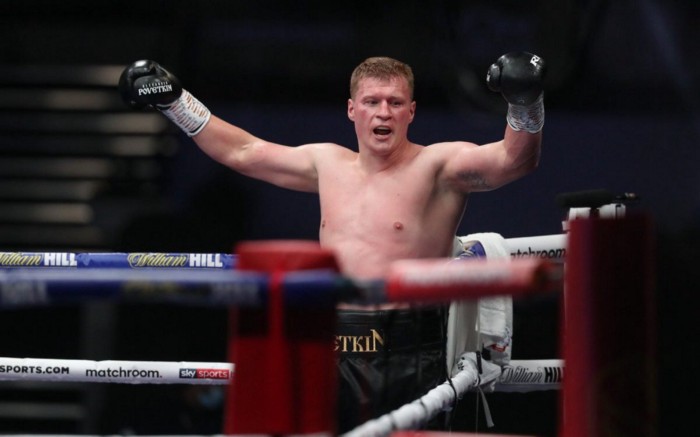 Credit: Matchroom Boxing
Thankfully Whyte quickly arose from his temporary slumber, presumably safe, to immediately plead his case for a rematch. However, between now and that date, a sense of vindication and schadenfreude will echo through many many circles. Including from the direction of those who were often at the end of ridicule from Whyte himself.
This is the story of a fighter, once an admirable underdog, who quickly transitioned to a self-entitled heavyweight superego, quick to point out the favourable treatment and privileges of his adversaries, whilst growing very much oblivious to his own. Dillian Whyte receiving this sort of humbling reality check, in his own promoter's back garden of all places, is the type of script which can only be crafted in the flawed but fascinating fight game.