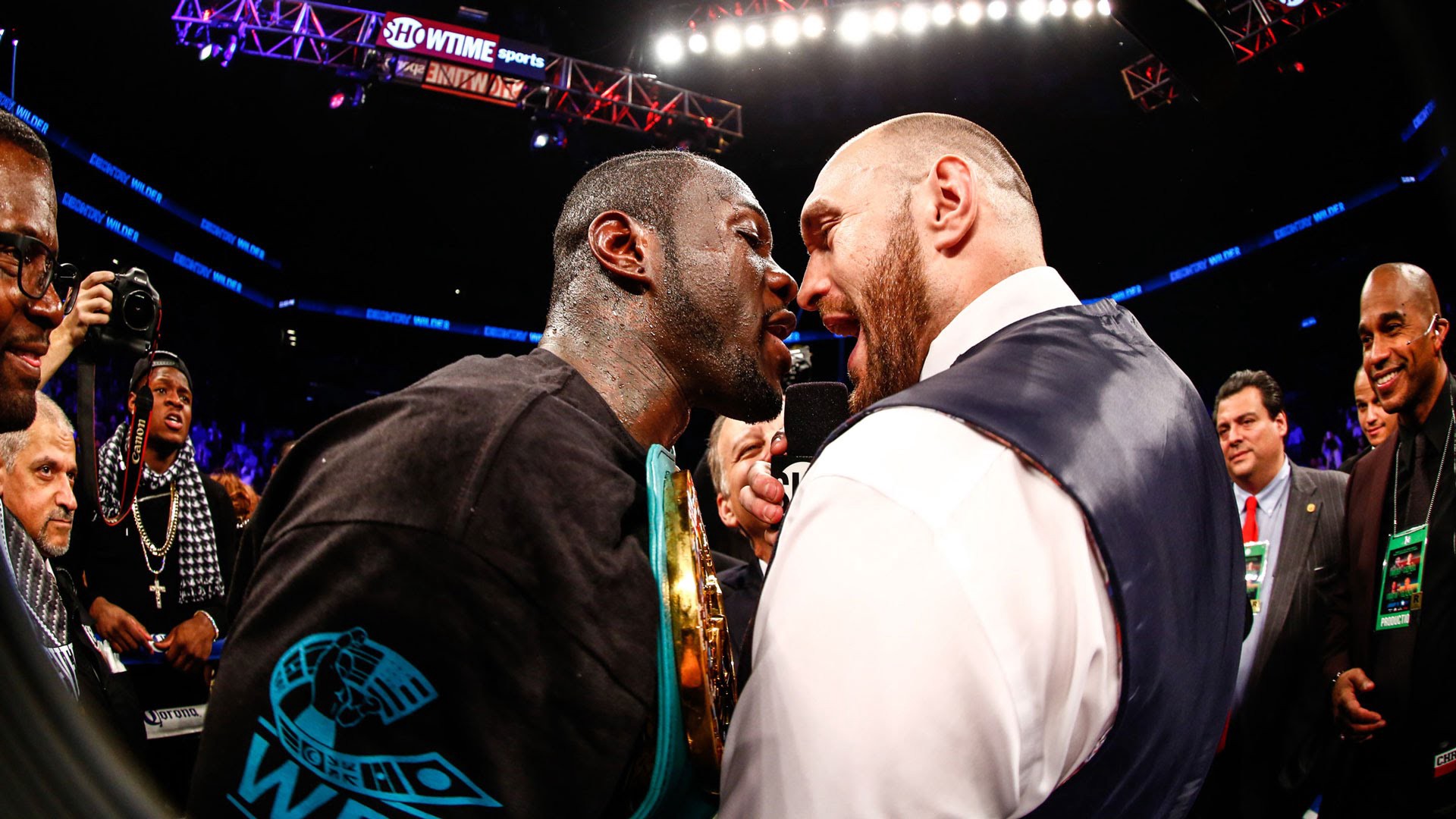 Showtime
The Road To Wilder Fury II — A Timeline — Part II
By on Wednesday, February 19, 2020
January 2015 – "I'm about to put this Haitian on permanent vacation"
The back end of 2014 was relatively quiet for Deontay Wilder. And for good reason. Installed as mandatory to recently crowned WBC Heavyweight Champion Bermane Stiverne, Wilder took a brief tune-up in the summer before zeroing in on the Haitian titleholder. Stiverne was seen both heavy-handed and competent enough to expose the supposed fraud that many still believed Wilder was, but also limited and ordinary enough to be the perfect stepping stone to transform a prospect to a champion.
Insults and threats were exchanged throughout the build up, but when it came to fight night, it was the 29 year old American who stood tall whilst raising championship gold. Withstanding a broken hand and a fighter who would not fall as easily as those who preceded him, Wilder was content to stick out his jab and shoot his (damaged) right hand at a plodding target for twelve rounds. Almost a decade after stepping into a boxing gym for the first time, Wilder became the first American heavyweight champion since his point of entry into the fight game.
July 2015 — "It's a personal mission of mine to rid boxing of a boring person like you"
Wilder would have a couple of hometown defences in Alabama. Firstly, he survived a shaky moment to trounce the otherwise hapless Eric Molina in nine rounds. He then followed this up with another largely dominant display over Frenchman Johan Duhaupaus, finishing the show in the 11th that time around.
However all eyes in the summer were on Germany where Tyson Fury touched down to make his date with destiny versus Wladimir Klitschko official. The two had history — dating back to camps in Austria under the guidance of the late Emmanuel Steward, but in terms of demeanour and application to the sport, they stood in stark contrast. It was well-packaged vs unkept, Swarovski versus Slazenger, UK vs Ukraine, in a night that would shape the trajectory of the division as well as that of Tyson Fury's life.
November 2015 — A Düsseldorf Dream
After a brief delay due to a Klitschko quibble, Fury had to finally walk the walk in front of 50,000 people in Düsseldorf, Germany. Mind games and playacting were aplenty during the entirety of fight week, however as soon as the first bell went, Fury was all business.
"Don't hold your feet, touch him with the jab, tie if he gets close" — nothing spectacular, and certainly nothing entertaining. But the totality of what the rounds racked up with negating the offence of the long-reigning champion was more than enough for Fury to create history
Michael Buffer bellowed "and the new!", family members and close friends rejoiced and a young man had completed the unlikely turn around from a "never will be" to "just becoming."
January 2016 — "When you're ready, when you're ready Bumsquad"
Instead of the heroes welcome that was becoming of heavyweight champions past and present, Fury was faced with the backlash of a backlog of insensitive and erroneous remarks he had made in the lead-up to winning championship gold. He had become the man, but there were immediate signs that he was already burdened by the crown that was bestowed upon him.
None was this more evident than when he took a trip to New York in mid January. Purpose of visit? Watching a certain American title holder made the third defence of his belt in Brooklyn. Whilst Fury struggled to avoid negative press back home, Deontay Wilder was struggling to get press at all. Assignment number three of his title reign (versus Arthur Szpilka) was all about profile raising. And with a right hand like Wilder's, there is the possibility to create memories every time you step into a ring. 9 rounds of sloppy action cancelled out with an eraser to the jaw.
Szpilka exited stage right on a stretcher, thankfully with his faculties in tact. Enter stage right — Tyson Fury…
June 2016 — Not Your Ideal Summer
Despite the theatrics of their encounter in Brooklyn stoking the flames further for a potential showdown between the two, fate would take both Wilder and Fury in two different directions for the time being. Things went from bad to worse personally and professionally for Fury. He saw one of the three title belts he won taken from his possession due to non compliance. It quickly wound up in the possession of a fellow Brit: the division's next best thing — Olympic Gold Medalist Anthony Joshua (not Audley).
Owing to a more media friendly and professional attitude, Joshua received the acclaim that was not forthcoming for Fury, something which at some level irked the latter. But it got worse from there. Around the same time Joshua was defending his new title for the first time, Fury was preparing for a rematch with the man he conquered the previous November — this time at home in Manchester. However said rematch would never materialise.
The short story is that a foot injury followed by mental health issues scuppered Fury's title reign and resulted in an abdication of his two other title belts. The long story is far more murky than that, involving several encounters with drug testers, a PED issue dating back to months before he became champion and the type of personality fluctuations which had plagued a man throughout his whole career and life. These problems had been brewing beneath the surface. Ultimately, Fury was off the grid indefinitely.
Fortune certainly did not favour Deontay Wilder in 2016 either. Following Szpilka, he was set for the biggest task and paycheque of his career. In Russia, versus a highly regarded and dangerous native Alexander Povetkin. His critics wanted him to face a legitimate name and they were set to get their wish and then some.
Wilder touched base in the UK to put the finishing touches to his preparations for the fight of his life, only to receive an unexpected phone call days before he was set to engage in battle.
Povetkin had failed a test for a banned substance (coincidentally not the last Russian doping scandal of that summer) — Wilder's day of reckoning had been scrapped and he'd have to settle for a short notice hometown assignment versus the game but battle worn Chris Arreola instead. The win was relatively routine, but a torn bicep and another hand injury would sideline Wilder for the remainder of that year. His quest to prove his legitimacy as a champion was most definitely on hold for the time being.