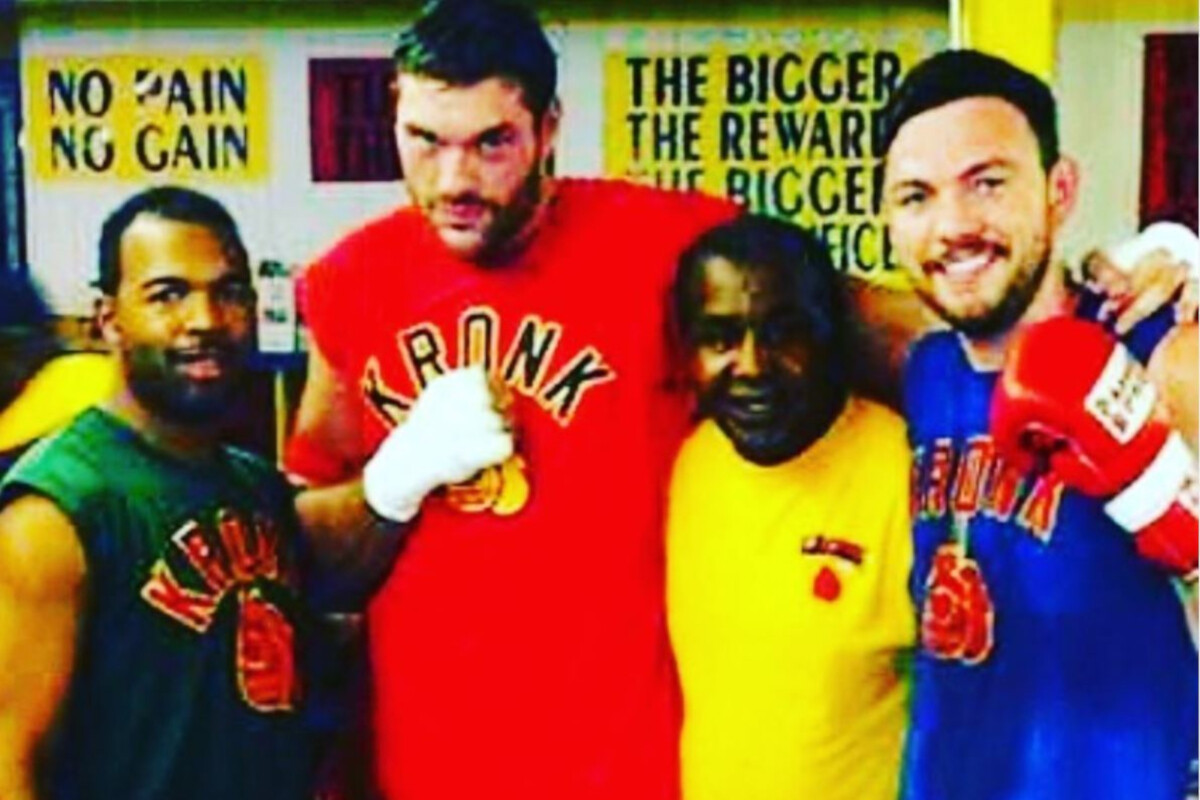 The Road to Wilder Fury II – A Timeline – Part I
By on Tuesday, February 18, 2020
June 2012 – "There's a certain toughness inside of him"
Shortly before his passing, legendary trainer and moulder of modern heavyweights Emmanuel Steward was asked about which of the upcoming breed of big men would ascend to the divisions summit after his current charge in unified champion Wladimir Klitschko. Steward earmarked two men, both raw and sloppy yet unflappable and determined.
Steward lauded the toughness and coordination of 23 year old Tyson Fury, at this stage an undefeated British and commonwealth champion. Despite showing promise and having achieved a fair amount in his brief professional career, still a fighter whose most colourful performances came with a microphone in his hand. Especially an uncensored live tirade launched against his closest British rival at the time in David Price. A few wins for regional belts appeared to pave the way for a domestic showdown between the two. A classic boxer vs puncher affair to determine UK's number one.
Steward also earmarked another heavyweight closer to home as someone to look out for. With god given power and an Olympic bronze medal, Deontay Wilder was ploughing his way through the regional club circuits of America with reckless abandonment. With gaping holes in his framework and a risible level of opposition, it was hard for many to stand up and take notice of the 27 year old. However six KO wins, topped off by a crunching demolition of Kelvin Price on Showtime in December, saw avenues slowly open for this Alabama native. Still striving to provide for himself and his young family.
April 2013 – "I didn't come here to play tip tap boxing"
Deontay Wilder's career was beginning to pick up some momentum. The affable prospect picked up his passport twice in early 2013. After a quick pitstop in Mexico, he made his way to Sheffield to face another Olympic medalist – granted one who had become a punchline in Audley Harrison.
Harrison talked a big game, but was swarmed and stopped in a matter of seconds by the younger fresher guy. But what was the first indication of Wilder's future trajectory came a few days before at a local show in the same city. Sat at the back of a hall, Wilder was called out by perhaps the only man in the place to know who he was – a fellow undefeated heavyweight hopeful by the name of Tyson Fury, who then declared that someday the two would meet for championship gold. After defeating Harrison, Wilder doubled down on this intent, calling out the man he had just been acquainted with.
Fury himself had embarked on a transatlantic journey of his own just a week before Wilder. David Price had been stopped a month prior, so as an alternative, The 6'9 lump trudged into New York – promising to do a demolition job on his physically overmatched foe in former cruiserweight champion Steve Cunningham. Disaster nearly struck in round two as Fury pulled back in a straight line and left his chin on a platter for a Cunningham overhand right. Some more shaky rounds followed, however Fury was able to smother, spoil and subdue the smaller man before securing a finish in the seventh. Fury sang away the evening, rejoicing at a win that took him closer to title contention, but some of the new audience were left largely unimpressed at this "future champion."
Deontay Wilder continued his knockout streak right into the second half of 2013. That chilling right hand of his sent former beltholder Siarhei Liakovich tumbling as if he'd been tased. There was growing confidence around the Alabama native but there was still so much to learn. So when a call came in from overseas to go and spar a former champion on the comeback trail, Wilder was more than happy to oblige.
That man, David Haye, on the smaller side in terms of heavyweight dimensions, sought out the services of the long and languid Wilder to prepare for another super heavyweight. Fresh off the exploits in New York, Tyson Fury campaigned for a returning David Haye as he chased the sort of scalp which would increase his domestic notoriety as well as his bank balance. After a brief back and forth between fighters and teams, a late September date was pencilled in for the two to meet at Manchester.
But as soon as anticipation build for the showdown, as quick said anticipation dissipated. A cut over an eyebrow followed by a serious shoulder injury sidelined David Haye, put an axe to this showdown and put a temporary halt to Fury's ascent. Rumours of Deontay Wilder potentially stepping in as a replacement briefly swirled, but were ultimately unsubstantiated.
March 2014 – A Puerto Rican Dive?
Incredulous at the fallout of the biggest fight of his career to date, Fury piled on the pounds in a self proclaimed "retirement " before he stopped sulking and got right back to work in reclaiming his place in line for a title shot which he gave up chasing Haye. All 19 stone of Fury, looking like a man twice his age (25), dispatched club fighter Joey Abell in London after a bit of playacting to restart the engine as of sorts.
Meanwhile, in Puerto Rico, Deontay Wilder was edging closer to a title shot of his own, having been placed in an eliminator with fellow countryman Malik Scott on the undercard of Danny Garcia vs Mauricio Herrera. For someone still considered unrefined, an experienced stick and mover like Scott may have proved to be a potential banana peel. But Wilder waltzed into Bayamón care free and once again took care of business swiftly. The ignominious manner in which Scott was dispatched caused many to question whether the matchup was on the level – not that this mattered to the Bronze Bomber, who was now right in the world title mix himself after fight 31 of his career.
November 2014 – "I'm the best heavyweight in the world by miles"
Tyson Fury was as unfiltered and unhinged as ever outside of the ring during 2014. Flipping over tables and insulting fans and journalists alike as he zoned in on securing a shot at Wladimir Klitschko. His chance to rubber stamp his date with destiny came at the end of November 2014. A rematch with the similarly unhinged British rival Dereck Chisora finally went ahead after a few delays. And it was here where for perhaps the first time in his career, Fury resembled someone who could be seen as a legitimate threat to those at the top of the division. He tore apart Chisora with a mix of patience and ruthlessness, forcing the opposing corner to save his rival from himself.
There was no going back now for Fury, he would finally get his world title opportunity in 2015. However, he was not the only person that found themselves in that boat.