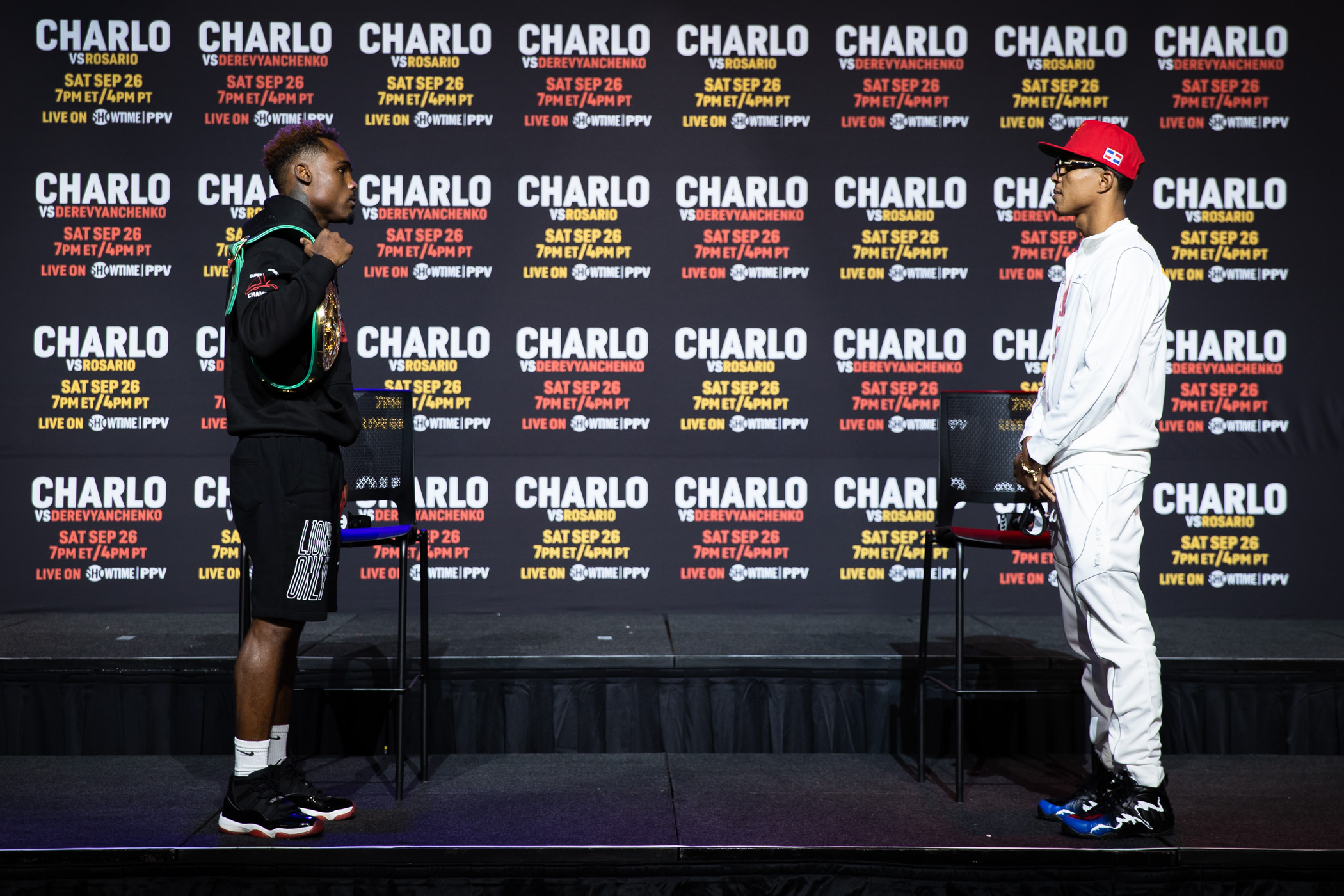 Amanda Wescott/Showtime
The Long and Winding Road to Jermell Charlo vs Jeison Rosario
By AC on Wednesday, September 23, 2020
Saturday night is the culmination of 5 years of PBC matchmaking. After dozens of round robin matchups where the tired cliche of "the best fighting the best" has played out we are left with a fight that is the best of the bunch. Saturday night Jermell Charlo and Jeison Rosario meet for ultimate supremacy at 154 lbs. Two big punching fighters who possess not just natural strength, but a demonstrated ability to hurt their opponents on a regular basis. The question is, how did we get here?
The experiment began in 2015 when PBC was birthed into this world. A bold experiment to bring boxing back to network TV and reintroduce the world to a sport that had been hidden behind the HBO and Showtime paywalls for years. In one fell swoop many of boxing's long-discussed problems would evaporate as boxing now found itself accessible to millions of homes.
In making the move PBC began executing a plan that wasn't so obvious at first, but has now become perhaps their signature move. They identified several divisions where they would set up camp in the hopes of making that division just as deep and lucrative as welterweight.
One of those divisions was 154 pounds. A division which saw Floyd Mayweather hold the WBA and WBC titles, Demetrius Andrade the WBO, and Cornelius Bundrage the IBF.
With Floyd Mayweather soon making his way out of boxing, Bundrage on the wrong side of his prime, and Andrade's perchance for complicating his career (by dropping out of a potential fight with Jermell Charlo), it looked like the perfect division to build.
There was huge upside with the roster they had amassed.
Jermell and Jermall Charlo looked like the future while the ultra-talented Erislandy Lara was the present. Austin Trout was there to give everyone trouble. Tony Harrison looked like a prospect who could find his way into the mix. Ishe Smith lurked looking to make a prospect look flat. Terrell Gausha was an Olympian and the possible wild card of the bunch.
Quickly the stable grew. Julian Williams came on board and began to light opponents up. Erickson Lubin was brought into the mix as a potential future torchbearer for the entire sport. Jarrett Hurd emerged seemingly out of nowhere. Brian Castano clawed his way into title contention.
Of course, it would be crazy not to mention that while those guys stood at the top and most of them remain there, there are several fighters who's back the division was built on. The deep reservoir of fighters who've been mixed and matched to leave us with Charlo and Rosario.
There were the guys who got to the top level without ever breaking through like Nathaniel Gallimore, Vanes Martirosyan, John Jackson, Wale Omotoso, Wilky Campfort, Willie Nelson and Jorge Cota.
There were the guys who never got out of the gate and saw their careers stall out like once-promising Frank Galarza who was demolished by Jarrett Hurd, Dominique Dolton couldn't put it together against fellow prospect-level fighters like Patryk Szymanski, Szymanski boxed well in America before taking his undefeated record to Poland and losing to several journeymen, Kyrone Davis was derailed by Junior Castillo, Junior Castillo was derailed by Justin Deloach, Deloach turned in back-to-back losses to Rosario and Gallimore, Marco Hernandez upset Thomas Hill and Kevin Newman but holds losses to Kyrone Davis and Jeison Rosario, and Kevin Newman got his win back against Hernandez.
There are still guys right now who we don't quite know what they are like 25-year-old Jamontay Clark who's loss and draw may look perfectly reasonable in a couple of months and you've got assume Kanat Islam is still somewhere out there lurking albeit so far removed from fighting in the US and under the PBC banner that the fact that he's somehow spoiled his once-promising career might actually be an accomplishment.
Then there is the ever bright future. The reinvestment into the division. Sebastian Fundora is 22 and looks to be as talented as he is tall, Joey Spencer is a project that could pay off huge with a novel backstory and a lot of time on his side at just 20, Chordale Booker is 29 and remains an unproven fighter who hasn't yet had an opportunity to showcase his skills, and of course, there is the 25-year-old unified super welterweight champion Jeison Rosario who may well put the entire division on his back Saturday night.
Every single name mentioned has fought at least 1 other name on this list and in several cases multiple names.
Jermell Charlo has been one of the consistent figures of the PBC 154 pound scene. He made his PBC debut on Halloween of 2015 against Joachim Alcine. Charlo won, he moved on to John Jackson who appeared to have his number. Behind on all 3 cards, Jermell knocked him out in the 8th round. His next fight was Charles Hatley which saw Jermell score a knockdown which would only be topped by his knockout of Erickson Lubin in his very next fight.
As Jermell shined in 2017, Rosario made his PBC debut. In 2017 Jeison Rosario came to the US for the first time and was decimated by Nathaniel Gallimore. It was a rude awakening for a guy who'd only ever faced the tough guys in the Dominican Republic.
2018 was the roughest year of Jermell's career. He'd win a majority decision over the always slippery Austin Trout. While Jermell was aggressive and pushed the fight, the two never clicked and it was an overall disappointing performance for both fighters.
Rosario lost his debut, but began to quickly rebuild. By the conclusion of 2018 he'd stacked up wins over Justin DeLoach, undefeated Jamontay Clark, and once beaten Juan Carlos Rodriguez. He had left the Gallimore loss behind and began to establish himself as a dangerous puncher at 154.
PBC signed their new deal with FOX in 2018 and the Charlo's were the chosen fighters to debut the new series, it looked clear at this point that one of if not both Charlos were destined for pay-per-view. Jermell Charlo had the more organic matchup as the calls for a fight with Jarrett Hurd grew louder and louder. The obvious play was to give the two a couple of warm up fights before they would ultimately face each other.
This is the fight we thought we'd get. Jermell Charlo vs Jarrett Hurd.
Unfortunately, both fighters saw their careers turned upside down in the span of a month. Jermell lost a decision to Tony Harrison that many thought he deserved and Jarrett Hurd couldn't impose himself on Julian Williams as he always had and took his first career loss.
By February of 2019 it was Tony Harrison and Julian Williams who held 3 of the 154 lb titles. Harrison who had suffered a loss already to Jarrett Hurd and Julian Williams who had been knocked out by Jermell's twin brother Jermall.
Meanwhile, Jeison Rosario all this time was showing up to fights and winning them without proper guidance or training equipment.
Once again within the span of a month the entire division would be shaken. Jermell Charlo would rematch Tony Harrison in late December of 2019 and score the emphatic stoppage. Less than a month later Julian WIlliams would make the first defense of his super welterweight titles and Jeison Rosario would demolish Williams in 5 rounds.
The pay-per-view showdown is born. Tenacious, big punching Jermell Charlo and uniquely strong Jeison Rosario hold 3 of the 4 major titles at 154 and for once, there is no question. That 4th title isn't needed to call this the most significant matchup in the division. Over 25 matchups between the stable of super welterweights in the PBC stable.
It took well over 25 fights between the stable of super welterweights to get to Saturday. It took a lot of planning and a little bit of luck here for all the talent to blossom the way they have, but the payoff has been immense. An exciting division where results aren't shocking.
Saturday we have the fight where no result would be unusual.