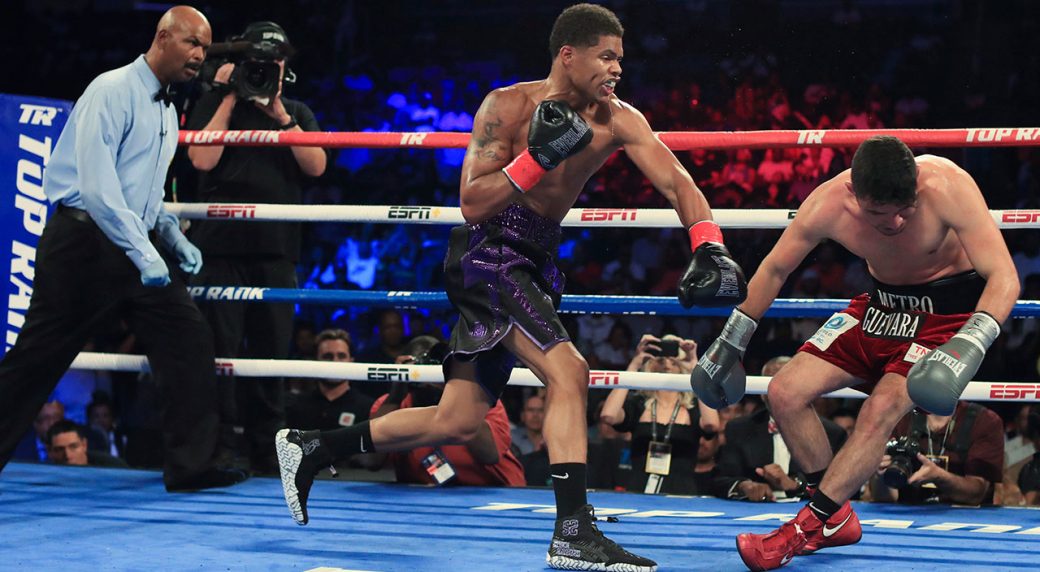 Andrew Mills/NJ Advance Media via AP
The Good, The Bad, and The Ugly With Boxing's Return
By on Saturday, June 6, 2020
Top Rank is leading the charge with a vengeance as they unveil a slew of cards marking boxing's return. In an unprecedented move, Top Rank will do approximately 2 cards a week as they work furiously to fulfill their agreement with ESPN that calls for 54 cards per year. If the prize is simply giving us back the sport we love, sure. Top Rank has done a phenomenal job turning on the water hose as we attempt to drink from a faucet, but is their approach and execution any good thus far?
The Good
Familiarity breeds contempt?
No! Not exactly. At least that's not what we hope.
In fact, it might be great that we will get regular boxing. One complaint that has floated through the message boards for years is that boxing hid itself from the greater public. Boxing turned it's back on the common fan and sold it's soul to the premium cable networks who's goal was to further obscure the sport's biggest stars by sticking them on pay-per-view.
That is obviously a much more complex issue to tackle, but for our sake here, it's quite possibly going to be a god send that the public will have boxing at a regular interval in a predictable place.
Think of it this way. Some fans will tune in to Shakur Stevenson's fight. They may not care for the card, but they watch anyway. They see a promo for another future fight.
Let's stop here. In the past, that fight would be taking place at some point in the future. Maybe 3 or 4 weeks away. Have you ever been to the store and walked out saying, I'm going to come back and buy that? Then you forget about that thing and don't wind up ever making the purchase.
Top Rank & ESPN have found themselves in a position where they can create some interest for their next fight. Then immediately deliver.
PBC to some extent pulled this off last year where their first 6 months they had a blistering schedule across the country with a card seemingly every week without many breaks. The numbers were good enough to suggest that this can work.
Good Matchups
Jessie Magdaleno vs Yenifel Vicente. You don't tune into a Jessie Magdaleno fight expecting to see the technical mastery of Canelo. No, you tune in because you want to see 12 rounds of back-and-forth action. Vicente is experienced enough that he's going to make it a real fight. This is poised to be an under the radar fight.
Eleider Alvarez vs Joe Smith Jr. The belief that this is some match-up between 2 monster punchers is overstated. Alvarez has gotten a reputation that probably isn't true, but that's beside the point. Joe Smith Jr here is the star. He's turned in a career full of surprises and each time he looks in over his head, he's figured out a way to leave his mark on a fight. Whether that be pushing Bernard Hopkins out of the ring and into retirement, wobbling Dmitry Bivol in one of the most forgettable fights in boxing history, or giving Jesse Hart a boxing lesson.
Ivan Baranchyk vs Jose Zepeda. There hasn't been an official announcement for this fight yet, but what this fight lacks in accolades and name brand recognition, it will make up for in action.
The Bad
We can expect an initial wave of interest as boxing joins a sparse collection of other sports putting out live shows. But, boxing has shown ratings have no correlation to availability or even quality. Rather, boxing is about names. It's about fights where the A and B side are known.
If we assume that that premise is accurate, boxing is in trouble. None of the announced fights feature known A and B sides. That's not to say these are bad fights or won't be entertaining, but if we honestly ask if the boxing casual is familiar with both fighters in the marquee, the answer is going to be an emphatic no.
This means interest will quickly wane. The ratings will not reflect well and while I have no doubt that ESPN understands what they have with Top Rank and their expectations are realistic, this will become another arrow in the quiver of the boxing detractor who loves to proclaim the wild success of the UFC.
The Ugly
Mikaela Mayer just tested positive for COVID-19 and the co-main event for boxing's first fight back is off. That's not good for anyone involved.
Now, there's no need to pile on Top Rank here and play the blame game. This is to be expected. Top Rank is marching forward and leading the pack. Mistakes will be made from production all the way to positive tests. For this, they shouldn't be judged too harshly. All signs indicate that they are being responsible in putting these events on. All of boxing will benefit from the successes and failures over the next couple of weeks as Top Rank walks the skinny branches.
At the end of the day, we can't be too harsh on Top Rank. Boxing is back and Top Rank doing their best to create an environment where everyone is safe. Can things be better? Sure.
But if things were perfect fans would probably still complain.