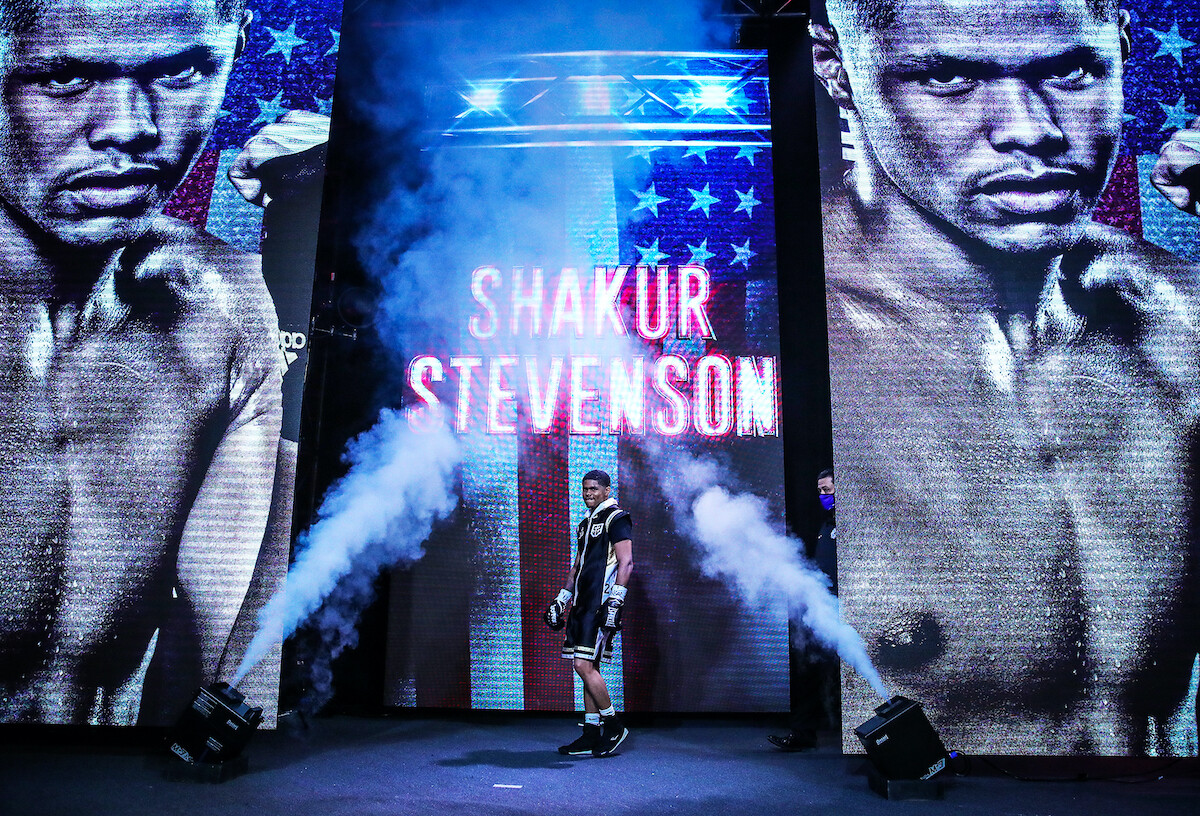 Mikey Williams/Top Rank
Shakur Stevenson Dazzles In Boxing's Acceptable Return
By on Wednesday, June 10, 2020
Boxing is officially back. Top Rank trotted out almost 4 hours of much anticipated boxing programming and the results are in. What we got was a showcase matchup for one of the brightest young talents in all of boxing, a grab bag of six rounders, and a whole lot of stalling. The question is, how was the return?
To answer simply. It was fine. The matchmaking wasn't good. The first hour saw 1 round of boxing. A 1 minute knockout for Robeisy Ramirez and then we sat and we waited.
Quatavious Cash and Calvin Metcalf was fun and went the distance.
Guido Vianello and Jared Anderson got stoppages that will fly under the radar. The wins were solid, but the finishes weren't sensational.
The shining spot of the entire card came when Timothy Bradley delivered a heartfelt and moving anecdote about a time he got pulled over driving his son to school. Words won't do it justice so you'll just have to watch the clip.
There were some rough parts that we can't ignore. Sometimes commentary got a little hectic. The commercial breaks and long segments between fights lead me to believe that an impatient and uncommitted fan, no matter how starved for sports they are, probably changed the channel. The matchups were really not up to snuff for primetime ESPN.
Then there's the whole Floyd Mayweather conversation.
Andre Ward spent the better part of 2 and a half hours trying to debunk a myth that in order for the African-American boxer to be famous, he must be the villain. Mark Kriegel's remarked that fighters of color have a perception as villains in the sport.
This was juxtaposed with the constant reminder that Shakur Stevenson intended to be the next Floyd Mayweather.
Andre Ward co-manages Shakur with J-Prince. J-Prince is the former manager of Floyd Mayweather.
If anything, the whole conversation was scatterbrained and contradicted comments that Shakur had recently made about wanting to not be the next Floyd, but rather become the next Shakur Stevenson.
Which should be the goal. There will never be another Floyd. The set of circumstances around Floyd Mayweather's career will never be duplicated. In the same way we will never have another Michael Jordan. It's time boxing fans leave behind the past and let these new guys create their own legacy.
Why on earth do broadcasters inundate their viewers with these corny takes and hasty comparisons? The answer is laziness. A lack of imagination. The Floyd Mayweather comparison is the boxing equivalent of remaking a popular TV show from 30 years ago into a feature length film in the year 2020.
The only way a fighter like Shakur Stevenson is going to break through and reach a Mayweather-esque height is going to be because people care about him. Some phony persona where he tries to be a good guy or plays up the villain will be seen right through.
The Charlo twins are breaking through because there is no act there. You get pure, raw passion from those guys every time they have a camera in their face. They are comfortable as themselves and people can love or hate them.
Gennadiy Golovkin took the boxing world by storm with a smile and a laugh. He was just being himself.
Could Mikaela Mayer have made a difference?
Absolutely. Mayer's absence from the card created an extra 30 minutes or so of stalling. You can argue how competitive her fight would have wound up being, but the rounds would have definitely smoothed out the janky timing of the entire event.
But overall, the return over perfectly acceptable. There are problems that plague Top Rank broadcasts that aren't going to be sorted, nor can they be blamed on not having fans. There are other problems that presented themselves, but can be easily smoothed out if the fights are better.
That's the biggest takeaway. So far, it looks like a boxing broadcast. The elements are all there. The only thing that is left is to deliver boxing broadcast caliber fights. That wasn't what we saw tonight and doesn't look like it will be on the horizon in the short term. Will that change? Yes. Absolutely.