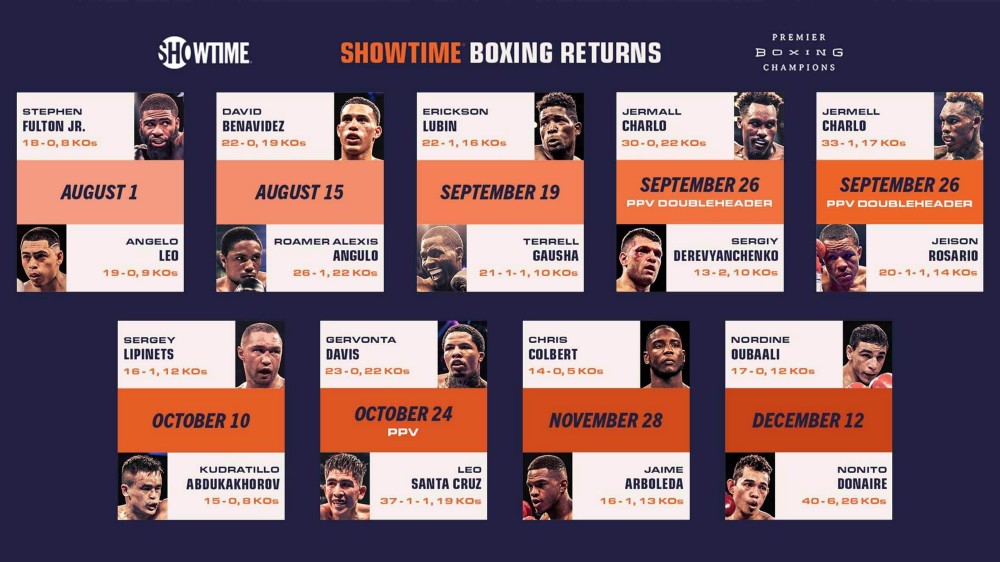 Showtime
Our Full Preview Guide for Showtime's Deep Fall Schedule
By on Thursday, July 30, 2020
Showtime kicks-off their ambitious Fall schedule this Saturday night live from their own bubble at the Mohegan Sun in Uncasville Connecticut. The schedule features 9 fight cards including a novel PPV double-header with the Charlo twins and a can't miss PPV showdown between Leo Santa Cruz and Gervonta Davis.
Executing all 9 cards will no doubt pose a challenge in this climate, and one main event fighter has already tested positive for COVID-19. Luckily smart planning allowed for the card and the title fight to be salvaged, so here's hoping the remaining fights commence with as little difficulty as possible.
The fights themselves emphasize competitive matchmaking over pure star power, and fans have already begun debating the outcomes of almost all of the main events. Up to this point 2020 has been rough for the boxing industry, but fans of the sport can finally look forward to the return of Boxing as we remember it.
---
August 1: Angelo Leo (19–0, 9 KOs) vs. Tramaine Williams (19–0, 6 KOs) — Vacant WBO Junior Featherweight World Championship
Angelo Leo takes out Cesar Juarez
Angelo Leo versus Tramaine Williams is the type of fight fans are always asking for: two young undefeated fighters risking their "0"s in order to distinguish themselves amongst the sport's top young fighters. Leo was originally supposed to face Stephen Fulton, but Tramaine Williams was able to rise into the main event from the undercard when Fulton tested positive for COVID-19. Both men justifiably feel they are ready for this moment. Leo is a much hyped Mayweather Promotions fighter with multiple ShoBox victories under his belt, while Williams is a 19–0 slick southpaw. Adding further intrigue, the bout will crown the WBO's Junior Featherweight World Champion, a rarity within the PBC sphere. Williams is ranked #6 in the WBO, so the title remains on the line despite the substitution.
The card also features light heavyweights Joe George (10–0) vs. Marcos Escudero (10–1).
-Tom Cody
---
August 15: David Benavidez (22–0, 19 KOs) vs. Roamer Alexis Angulo (26–1, 22 KOs) — WBC Super Middleweight World Championship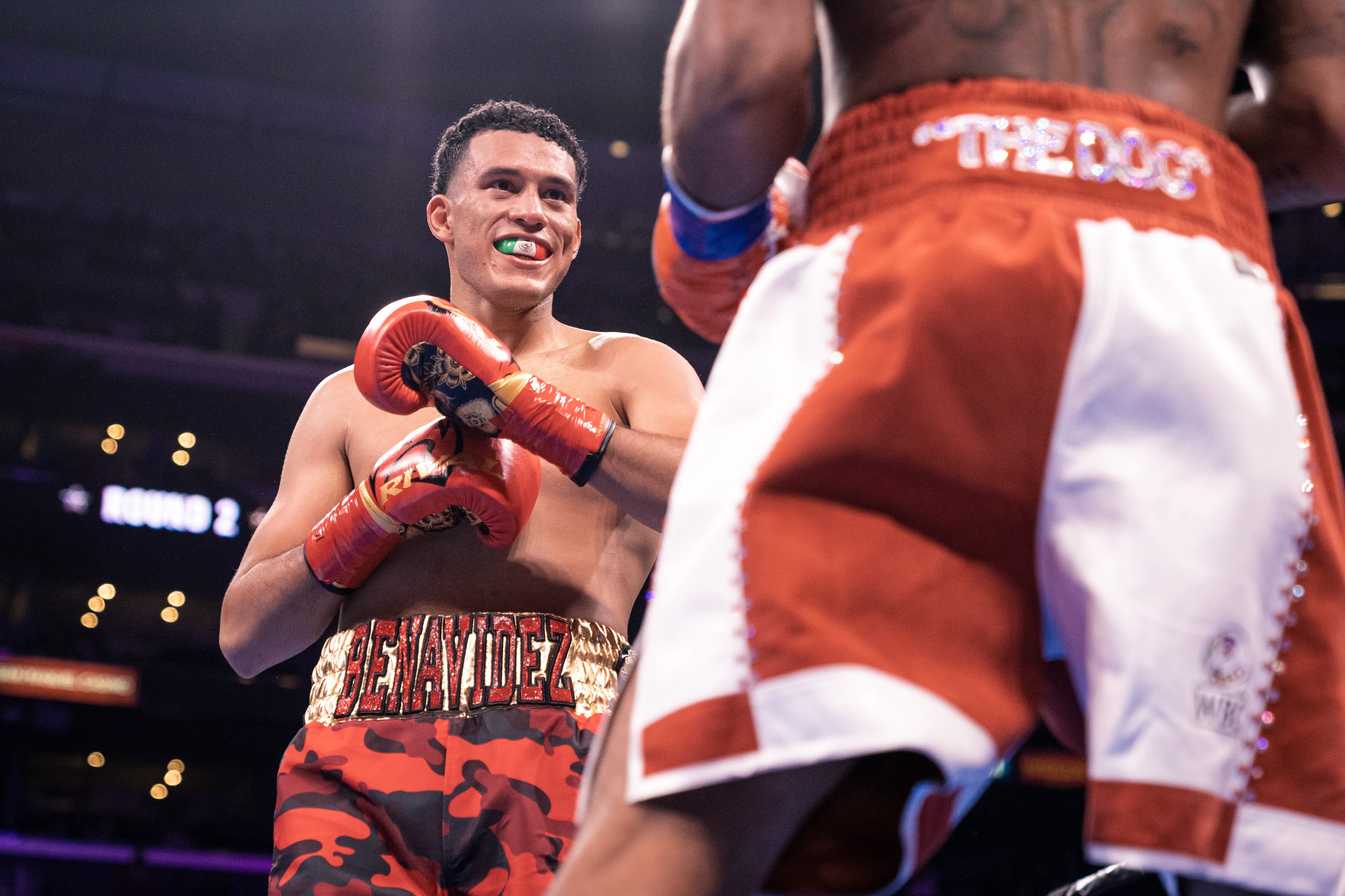 Ryan Hafey / Premier Boxing Champions
August 15 will pit explosive twenty-three year old 2-time champion David Benavidez against the hard charging Colombian slugger Roamer Alexis Angulo in what promises to be an action packed main event. Benavidez, who recaptured his WBC super middleweight title in September of last year from Anthony Dirrell, had just begun to recover the career momentum that had many pegging him as the face of PBC's future before the COVID-19 pandemic presented an unforeseen interruption. The Mexican will hope to reignite that buzz with an electric performance against Angulo, who is coming off a career altering win himself over the previously unbeaten and highly touted Anthony Sims Jr in January of this year. Angulo will be making his second attempt at becoming a world champion, having previously faced his only defeat at the hands of former WBO champion Zurdo Ramirez in 2018.
The co-feature will showcase one of boxing's most eccentric young fighters, Rolando "Rolly" Romero(11–0, 10 KOs), against an undefeated yet largely unknown Dominican by the name of Jackson Marinez (19–0, 7 KOs) for the interim WBA lightweight title. Rolly packs serious power in his fists but hasn't been asked to show much diversity in his attack thus far, and it remains to be seen whether Marinez can force another aspect of Romero's game to be revealed. In the opening bout, the man who very nearly stopped Tyson Fury on cuts and became the lineal heavyweight champion Otto Wallin (20–1, 13 KOs) makes his return to Showtime, and his PBC debut, with a showdown against the battle tested veteran Travis Kauffman (32–3, 23 KOs).
-Rollins
---
September 19: Erickson Lubin (22–1, 16 KOs) vs. Terrell Gausha (21–1–1, 10 KOs) — WBC Super Welterweight Title Eliminator Bout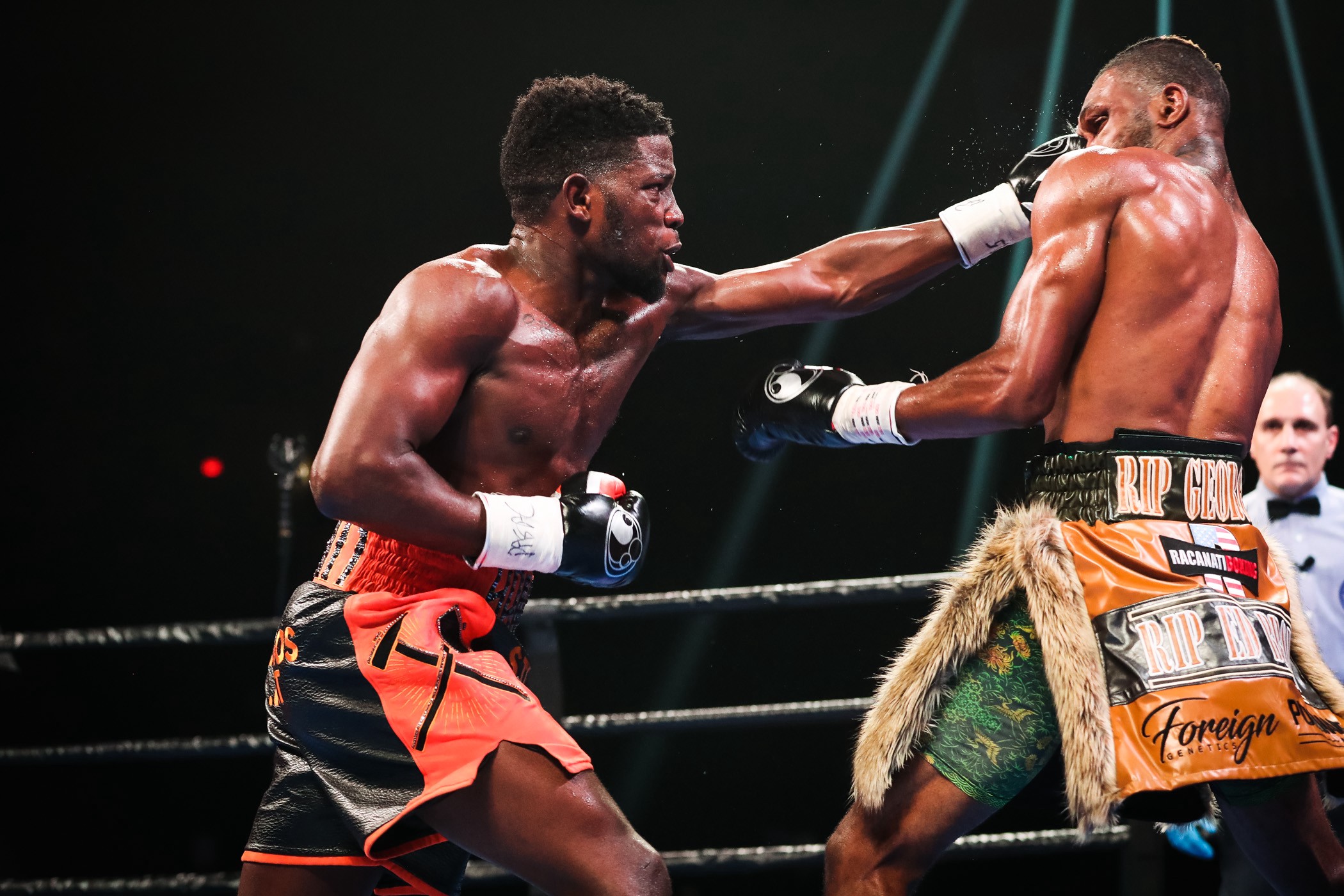 Amanda Westcott / Showtime
The 154lb division has been simmering for the last few years and it has finally reached a boil. Jarrett Hurd and Erislandy Lara fought the fight of the year in 2018, Jermell Charlo and Tony Harrison traded victories in a pair of fights that did fantastic ratings on national broadcast, Julian Williams upset Jarrett Hurd in a war, and then Jeison Rosario inturn demolished Julian Williams.
Flashforward to present, and Erickson Lubin and Terrell Gausha are poised to fight just one week before Jermell Charlo and Jeison Rosario unify the division on Showtime PPV, so expect momentum for the winners of the two fights to face each other down the road. Lubin, once the nation's top amatuer, suffered a 1st round shock to Jermell Charlo when he was just 22 and a Gausha, a former US Olympian, lost his only fight against then #1 ranked Erislandy Lara on the same night. This is a chance at redemption for both, and whoever wins on September 19th will be in a great position for a top match in their next outing.
The card also features Tugstsogt Nyambayar (11–1, 9 KOs) vs. Eduardo Ramirez (23–2–3, 10 KOs)and Jaron Ennis (25–0, 23 KOs) in a showcase Welterweight Bout.
-Tom Cody
---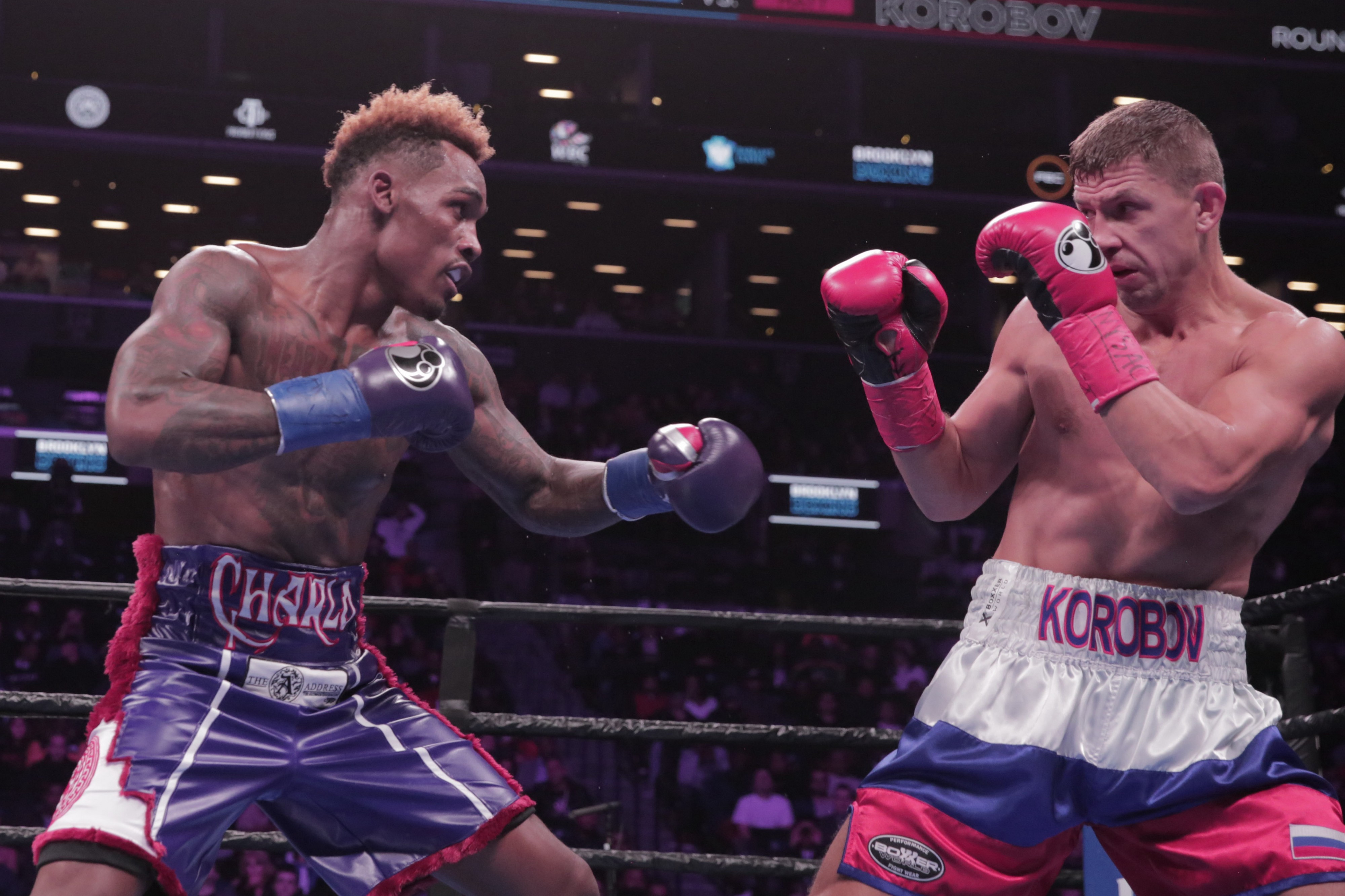 Leo Wilson / Premier Boxing Champions
COVID-19 brings major challenges to the sport of boxing so a Pay-Per-View is the perfect solution. Getting a fight like Jermall Charlo vs Serhiy Derevyanchenko on a regular broadcast would strain the resources of any broadcaster.
So allowing the Charlo brothers to test their popularity with the greatest metric in the sport is a perfect solution. Many confuse the brashness of the Charlo's with anger or oversensitivity when it's the display of two brothers who have been waiting years for their shot at the top while watching lesser fighters be pushed into the spotlight.
For Showtime it's a no-lose situation. However the night turns out, they will have a solid relationship with all the fighters by not crying poverty like so many others. But the cosmic irony of Jermall, the fighter who Golden Boy wouldn't sign vs Serhiy, the fighter Golden Boy wouldn't pay, being the only big fight in September is too succulent a dish to ignore.
This portion of the PPV doubleheader also features Brandon Figueroa (20–0–1, 15 KOs) vs. Damien Vasquez (15–1–1, 7 KOs) for the WBA Super Bantamweight World Championship, and Diego Magdaleno (32–3, 13 KOs) vs. Isaac Cruz (19–1–1, 14 KOs) in an IBF Lightweight Title Eliminator Bout.
-Fred Garvin
---
Jermell Charlo (33–1, 17 KOs) vs. Jeison Rosario (20–1–1, 14 KOs) — WBC, WBA and IBF 154-Pound Unification Bout, SHOWTIME/Premier Boxing Champions PPV Doubleheader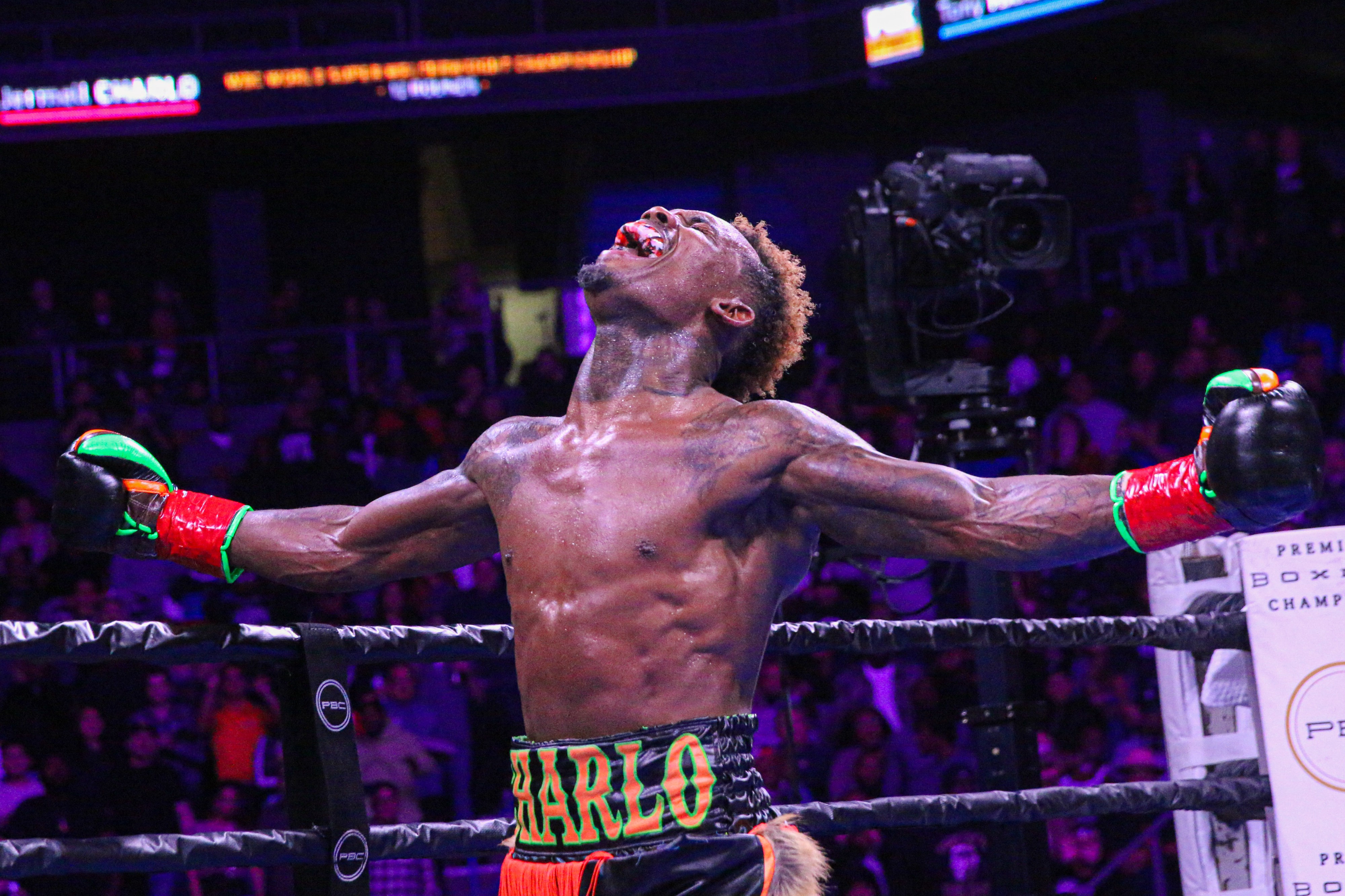 Leo Wilson / Premier Boxing Champions
Do you remember the last time we saw two explosive punchers match up in a unification fight in their primes? Neither do I… Jermell Charlo (33–1–0) and Jeison Rosario (20–1–1) are facing off in what will assuredly be one of the most exciting match ups of the year. The brash, fast talking twin brother has caught the attention of the boxing world with both his bravado and fighting style. Jermell relies on explosive punching, well timed in-and-out attacks mixing his attack to the body and head. Rosario on the flip side may not have the recognition that Jermell does but may be just as dangerous. Fighting out of the Dominican Republic, the 6 ft 1 Rosario dares his opponents to attack him and relies on ferocious and explosive counter attacks to inflict punishment. Both fighters will be coming into the fight with a huge amount of momentum. In Rosario's last fight he played the role of underdog against Julian Williams and scored a 5th round KO to earn the WBA & IBF championships. Jermell on the other hand avenged his only loss in a shootout against Tony Harrison that ended in 11th round KO that earned Jermell his WBC championship back. If I had any advice for you while watching this fight, it would be "don't blink"… Rosario has hurt, knocked down or finished all of his opponents except for Jorge Cota. Jermell has KO'd 5 of his last 6 opponents and will look to continue his streak of sensational performances. This is the type of old western style shoot-out the boxing writers, hardcore and casual fans dream of and the winner will be crowned king of the 154 pound division.
This portion of the PPV doubleheader also features Mario Barrios (25–0, 16 KOs) vs. Ryan Karl (18–2, 11 KOs) for the WBA Super Lightweight World Championship and Daniel Roman (26–3–1, 10 KOs) in a Super Bantamweight Special Attraction.
-Lex
---
October 10: Sergey Lipinets (16–1, 12 KOs) vs. Kudratillo Abdukakhorov (15–0, 8 KOs) — IBF Welterweight Interim Title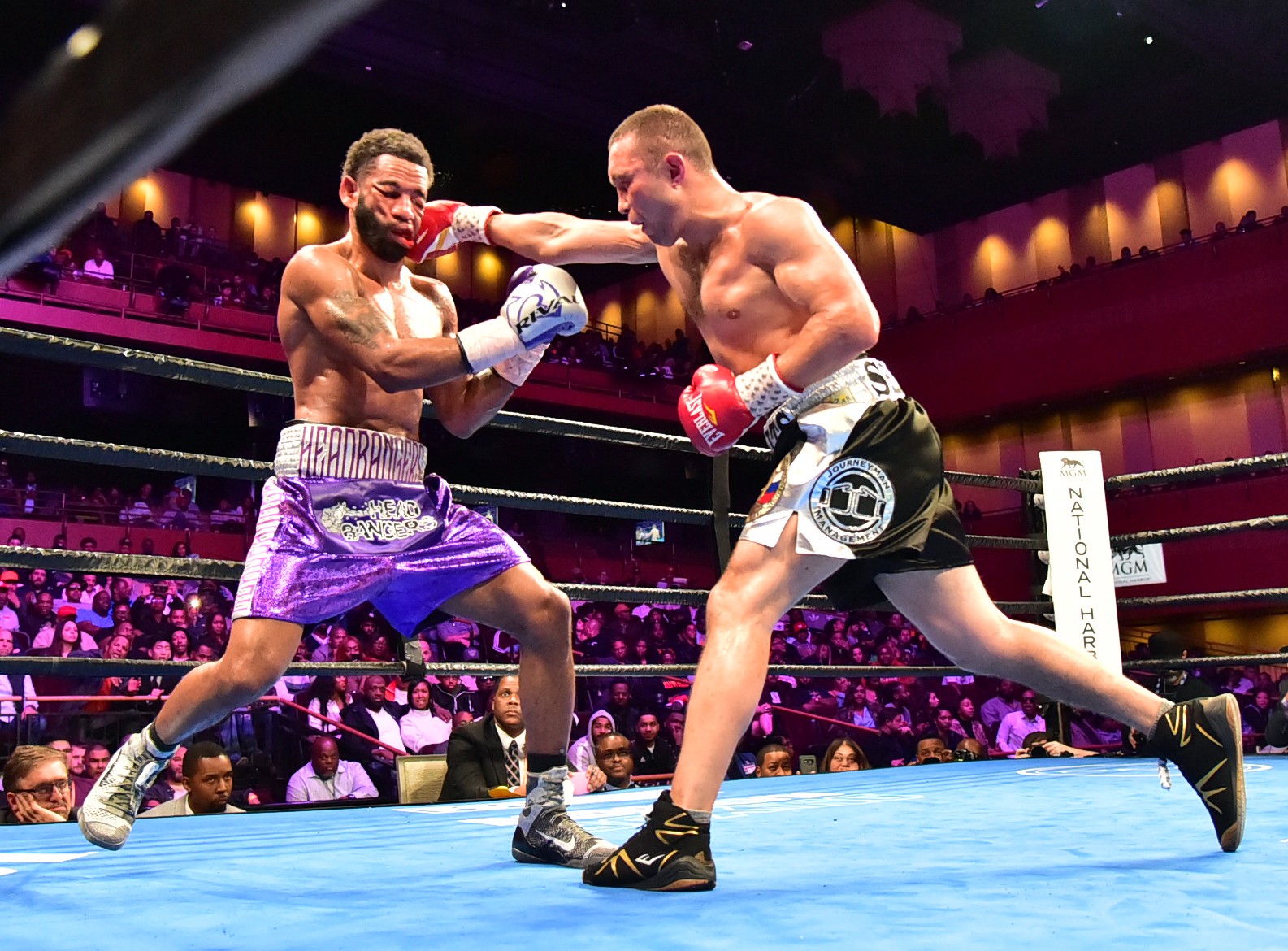 Kent Green
On November 10th, Sergey "the Samurai" Lipinets and Kudratillo "the Punisher" Abdukakhorov come from two different worlds. Sergey was born in the dying years of the USSR, came from a kickboxing background, before signing to PBC. Top Rank's Kudratillo was born into a post-soviet world and had a 170–10 amateur record before he dipped his toe into the pro ranks. This terrific matchup is coming with both guys at a career high. Former world champion Lipinets just laid waste to Lamont Peterson's hope for a quiet outing into retirement, while Kudratillo handled a wily Luis Collazo unanimously. The stakes are high, with both an IBF interim welterweight title on the line, as well as a guaranteed shot at pay-per-view star Errol Spence Jr. Both guys have shown a number of skillful looks prior to here and there's no reason not to expect their styles to clash well together. The Russian's 70% KO ratio against the skillful credentials of the Uzbek.
The card also features Xavier Martinez (15–0, 11 KOs) vs. Claudio Marrero (24–4, 17 KOs), and Malik Hawkins (18–0, 11 KOs) vs. Subriel Matias (15–1, 15 KOs).
-Greg Kashtanov
---
October 24: Gervonta Davis (23–0, 22 KOs) vs. Leo Santa Cruz (37–1–1, 19 KOs) — WBA Super Featherweight World Championship/WBA Lightweight World Championship, SHOWTIME/Premier Boxing Champions PPV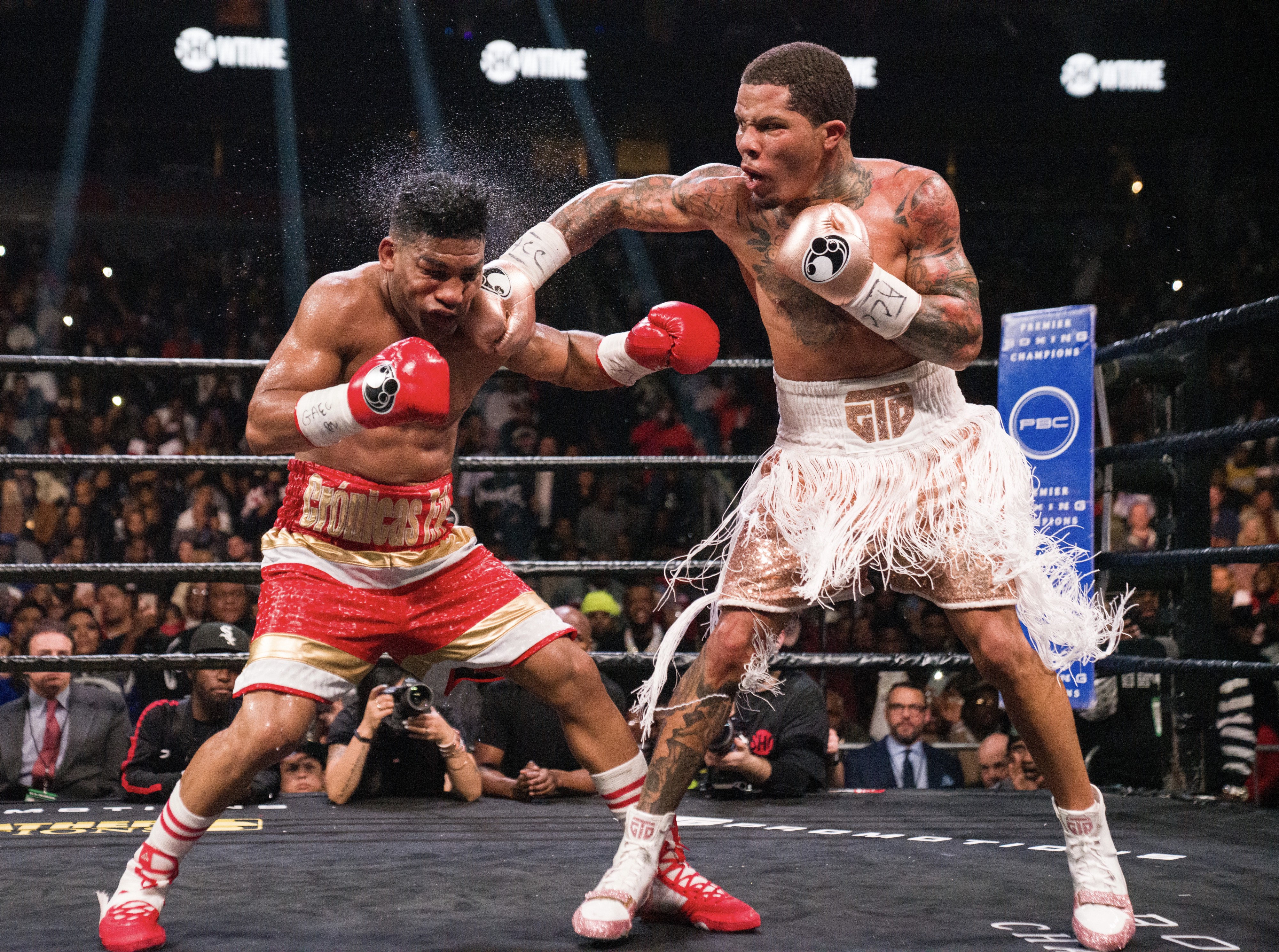 Sean Michael Ham / MWP
One of the brightest up-and-coming stars in the sport, Gervonta Davis (23–0), returns against the battle-tested Leo Santa Cruz (37–1–1). One thing that can easily be said about these two is that they come to FIGHT. Since the Frampton fights, we've learned that there is a lot more IQ on Team Santa Cruz than previously imagined and we can expect to see an expertly drawn plan that capitalizes on Santa Cruz's strengths. On the other side, despite Davis' record being short on marquee names, he absolutely cannot be counted out and he's getting a shot at a big name here. Boasting one of the best KO ratios at the top levels of the sport, Davis will be looking to put his signature on a win over Santa Cruz. Out of all of the announced cards from Showtime, there was definitely a lot of shine in the schedule; this fight, however, has the greatest pull on my attention.
-Leo Ariza
---
November 28: Chris Colbert (14–0, 5 KOs) vs. Jaime Arboleda (16–1, 13 KOs) — WBA Super Featherweight Interim Title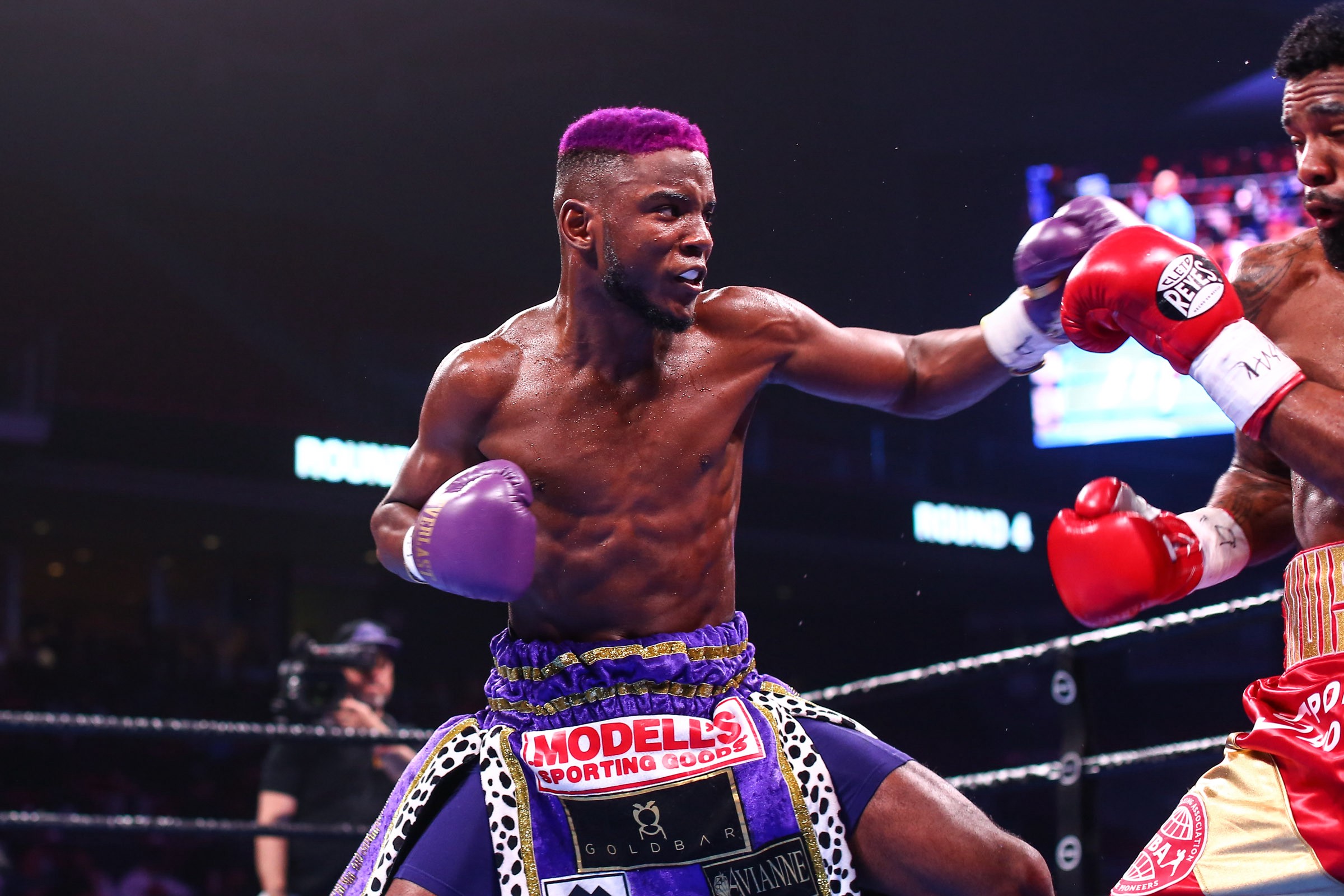 Stephanie Trapp / TGB Promotions
Chris Colbert one of boxing's brightest prospects changed his nickname last year to 'Prime Time', now he has the chance to earn the moniker in his first headline outing on Showtime. Facing him will be Sampson Boxing's latest hard-hitting prospect, Jaime Arboleda. Arboleda had to survive a late scare in his last fight against Jayson Velez on Showtime. The Panamanian's highly regarded trainer, Herman Caicedo, has stated that his fighter will be much improved in his next fight. He is looking forward to another full camp with his student to refine his raw talent, the trainer has stated that he reminds him of Felix Trinidad in his fighting style. Colbert shows a willingness and ability to sit in the pocket with ease and Arboleda has shown an eagerness to engage in his two fights with PBC so far, so it should make for an entertaining matchup. The two hungry, young fighters will battle it out for the WBA's Interim 130lbs title.
In the other announced fight, Richardson Hitchins (11–0), who like Colbert resides in Brooklyn, NY faces veteran Argenis Mendez (25–5–3) at 140lbs. Hitchins, who represented Haiti in the 2016 Olympics is one of many Mayweather Promotions fighters in tests on the Showtime fall schedule. Mendez last fought in May of 2019 where he frustrated another of Mayweather's unbeaten fighters, Juan Heraldez to a majority draw. On that night at the Barclays, Hitchins fought in the prelims and was sure to get a good look at his next opponent. So far, although highly regarded with good boxing ability and timing, Hitchins has yet to step up the gears and must let his hands go in this fight if he is to deal with the crafty vet and make a statement.
-Industry Insider
---
December 12: Nordine Oubaali (17–0, 12 KOs) vs. Nonito Donaire (40–6, 26 KOs) — WBC Bantamweight World Championship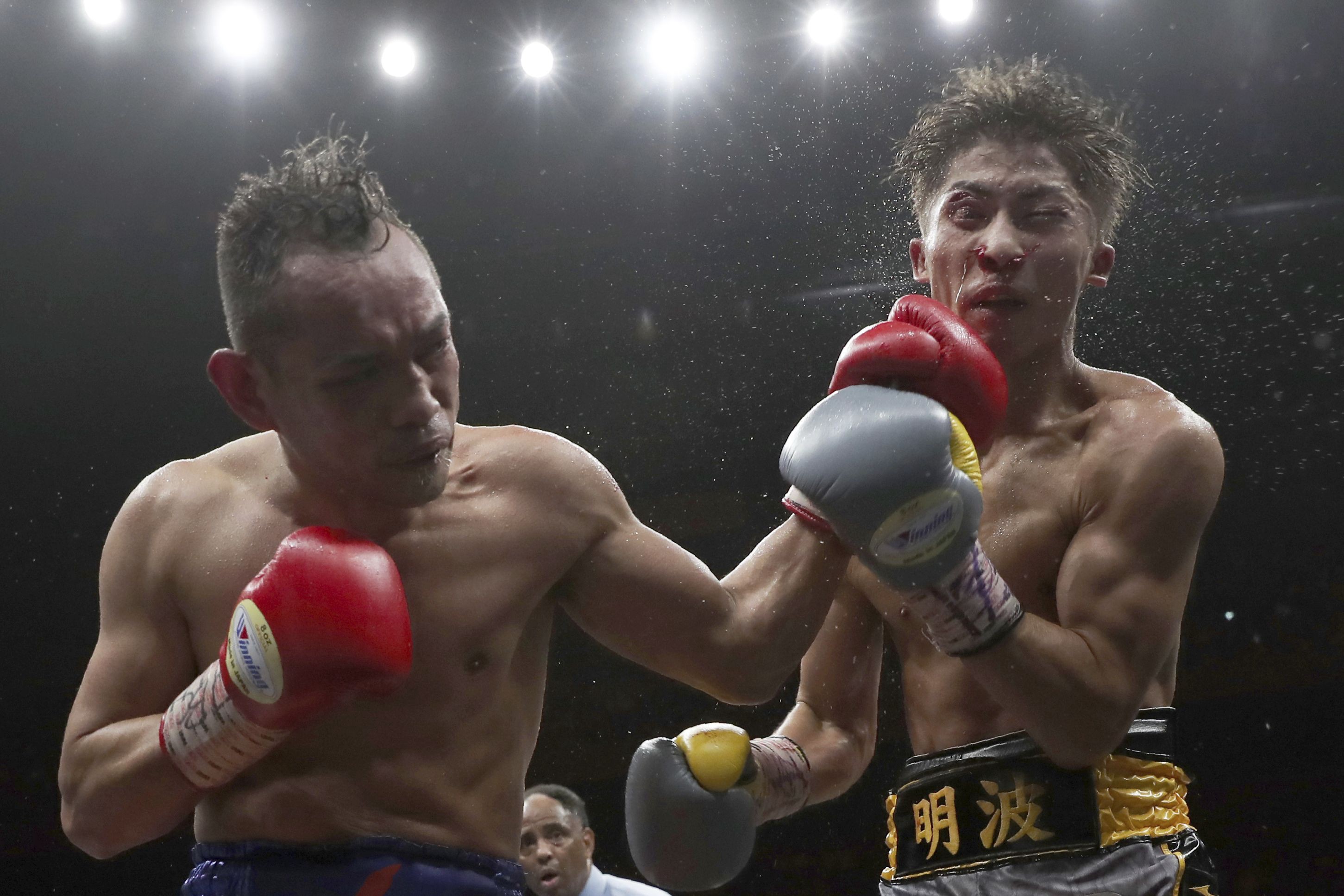 AP Photo / Toru Takahashi
It was 9 years ago when Nonito Donaire had the rocket strapped to his back by HBO and his then promoter Top Rank. Donaire had sent reigning super bantamweight champion Fernando Montiel into convulsions on the canvas with his now-trademark left hook.
A lot of time has passed since then. Donaire has suffered a handful of losses, he's gone up and down in weight, and he's been cast aside by his long time promoter. As recently as last November, Donaire was seen as a good name for any young up-and-comer but clearly a guy who was on the wrong side of 30 with a lot of miles on the odometer.
Then he met The Monster. A lot of things had to go wrong for Donaire to get the fight. Whatever those things were can be cast aside as Donaire turned back the clocks and delivered one of the gutsiest and courageous performances by an aging veteran you will ever see. Was Donaire back to the same guy he once was at his peak? Maybe not, but current WBC bantamweight champion Nordine Oubaali is not a monster. If the same Donaire shows up against Oubaali, we could see the conclusion of a story fit for Hollywood.
At least that's the narrative that makes this fight one of the most compelling of the announced Showtime schedule.
-AC