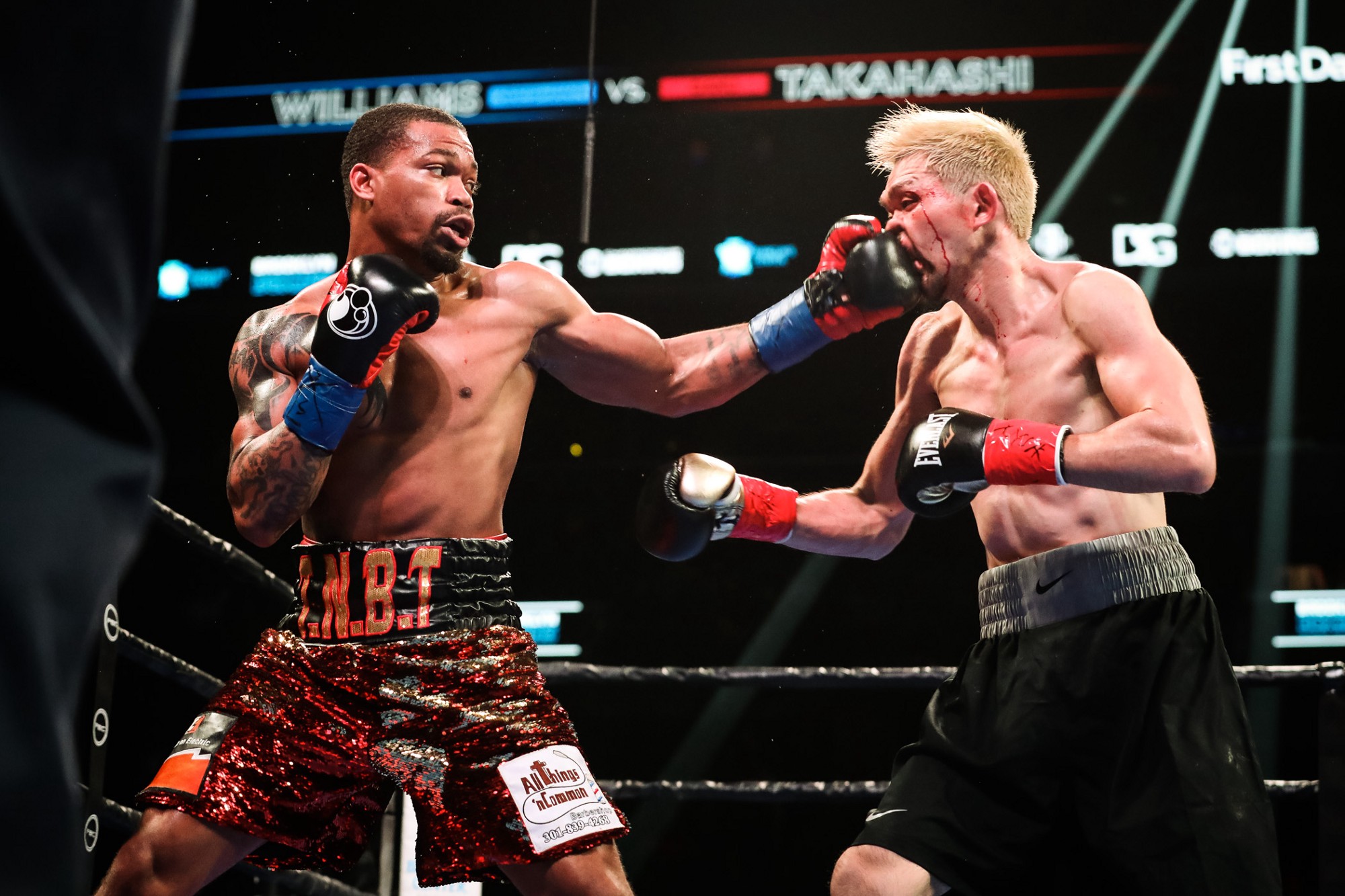 Amanda Wescott/Showtime
Keeshawn Williams Made Another Step Forward: Garcia-Redkach Prelim Report
By on Thursday, January 30, 2020
Keeshawn Williams UD8 Gaku Takahasi
This was surprisingly entertaining bout that looked anything-but on paper. Keeshawn Williams came in the hyped prospect with an undefeated record and championship pedigree (he's the nephew of Lamont and Anthony Peterson), 16–10–1 Gaku Takahasi gave the crowd a great show and earned every penny of his likely minimal paycheck.
The bout was surprisingly competitive through the first half, but then Williams settled down and dominated down the stretch. Takahashi really brought the action and won over the crowd by repeatedly urging Williams on with his hands at his waste. For his part Williams intentionally slowed down the action as much as possible in the second half after a more action filled first half than he probably wanted. Once Williams settled into his rhythm, he landed countershot bomb after countershot bomb. Takahasi had been cut mid way through the action, and every round hence forth would be punctuated by a moment early on where Williams would land a bomb on Takahasi and send a gob of vaseline flying an onto an unlucky ringside official.
Keeshawn Williams should be happy with his performance. Once things settled down he landed some really impressive counterpuncher and gave observers seeing him for the first time a lot to look forward to.
Lorenzo 'Truck' Simpson UD6 Antonio Hernandez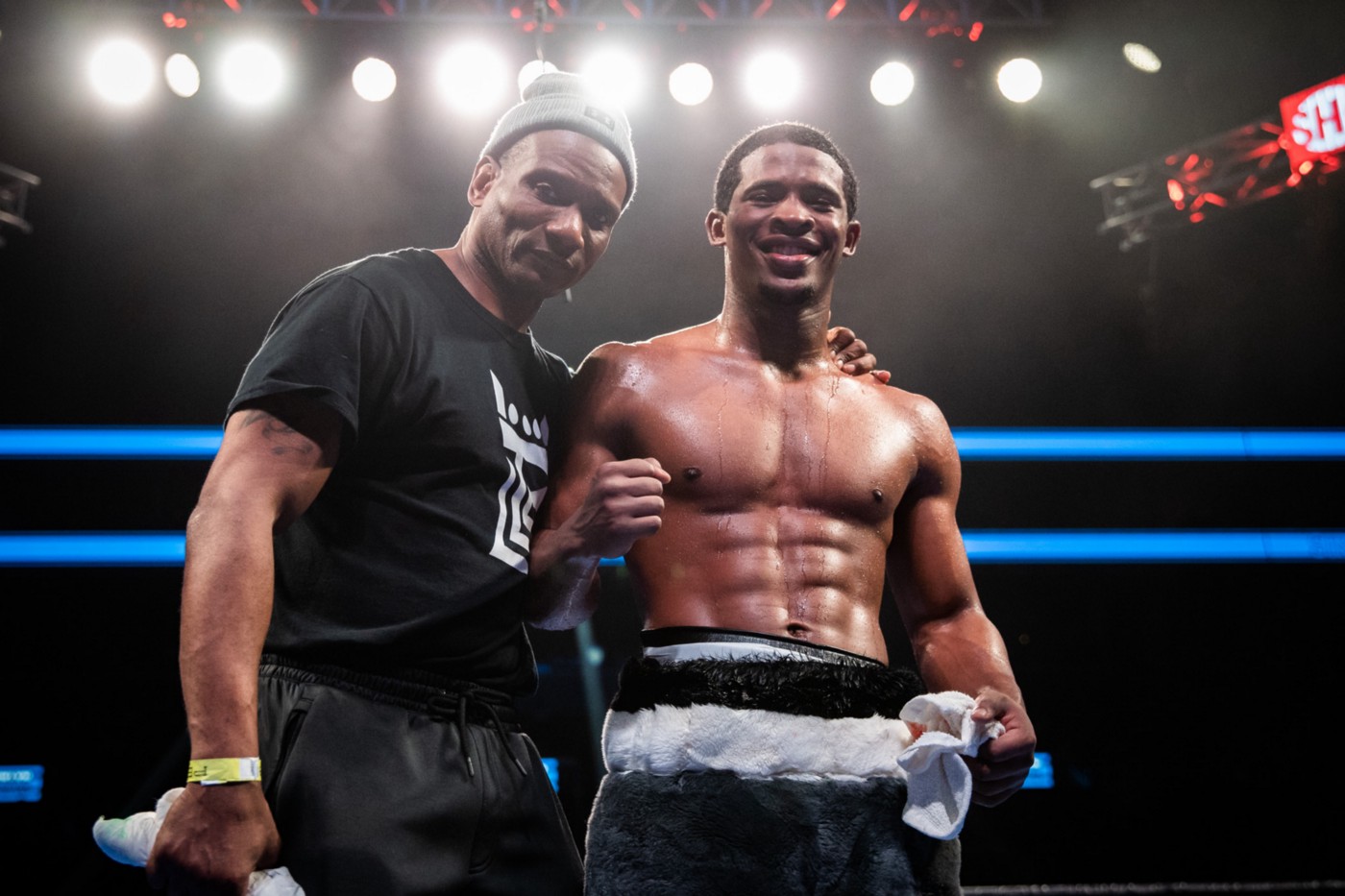 Amanda Westcott/SHOWTIME
Fights like this would never have been televised prior to the boxing bubble period of the last 18 months, and this fight showed exactly why. Lorenzo 'Truck' Simpson won a near shutout over Antonio Hernandez tonight and gained some valuable experience, but fans are more likely to fixate on the negative aspects of this outing due to Hernandez's 2–10 record.
Truck came out bombing in the first round landing loud thudding shots upstairs and down, but his body shots made a strong impression in particular. The same pattern continued, but eventually the story of the fight started to become Hernandez's resilience. The 2–10–1 Kansas City fighter has been stopped twice in his career, but he took everything Truck could throw and always had the energy and passion to return fire. Hernandez's greatest success came in the 5th when he landed a few good offensive combos in succession as Simpson overextended himself in a failed attempt to get Simpson's respect. Hernandez won the round on all 3 cards.
All in all I was pretty impressed with Lorenzo 'Truck' Simpson. Simpson showed off an impressive skill set and a lot of physical talent, even if Hernandez was way more game than expected.
Steven Torres KO2 Dakota Witkopf
If all goes to plan we could see a lot more of Steven Torres in the coming years. The 6'7" heavyweight is just 21 years old and and he improved to 2–0 (2 KOs) over Dakota Witkopf with a right hand that put Witkopf down and out. Make no mistake, Torres is as green as Ireland, but he has physical attributes that can't be taught and plenty of time to develop as a fighter.
Both of his pro bouts have been at the Barclays Center, and I expect to see this trend continue. Adam Kownacki rose as a professional here in Brooklyn in similar undercard slots, and I would not at all be surprised if Steven Torres gets somewhere in the next few years.