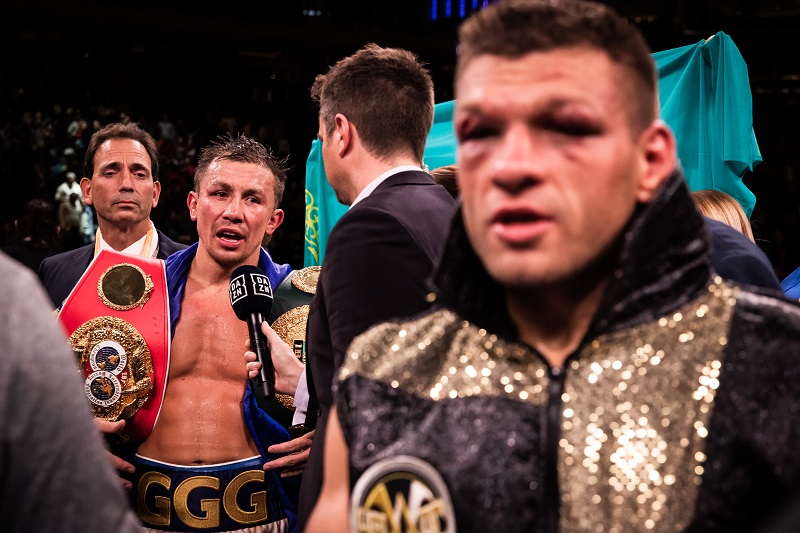 Amanda Wescott
Grading the Canelo Sweepstakes Contestants
By on Monday, June 15, 2020
Twice a year (usually) the boxing world holds their breath as we await who the team of Canelo Alvarez will choose as the lucky contestant in the Canelo game show. Any fighter capable of remotely making whatever weight class Canelo chooses start moving their chess pieces on the board looking to position themselves for a fight. Promotional differences and boxing politics are cast aside as Alvarez and his massive financial influence speak a universal language capable of breaking down the barriers that normally preclude fights from being made.
The lucky winner of the Canelo sweepstakes finds themselves now staring down the biggest payday of their career and a stage unlike every they'll ever be on. They have the glimmer of hope that should they come out victorious, they can assume the mantle currently held by Alvarez.
Now, let's be straight about something. Canelo has moved off pay-per-view. The money isn't what it used to be and poor spending decisions by DAZN on past opponents for both Canelo and Gennadiy Golovkin have turned the market upside down.
Finding an opponent for Canelo has and is proving to be very difficult after Sergiy Derevyanchenko got a reported 5.2 million for his fight with Gennadiy Golovkin and Danny Jacobs got 12 million against Canelo. With that exists the acceptable range for many opponents who believe to be somewhere in that range of popularity.
Budget cuts, layoffs, furloughs, unpaid licensing fees, and the start up on the hunt for additional investors to float the business do not bode well for anyone looking to capitalize on the market that was previously created.
So now we wait. We read the latest sources tweet from Mike Coppinger. We listen to the podcasts. We sift through the back and forth media negotiations. And then we wait some more.
While we wait, let's grade the rumored opponents in order of most likely to happen.
Anthony Dirrell, C
First, this one is the most likely opponent because there is already rumblings that he's been rejected. At least initially. Let's be real here. Canelo runs the show over on his side of the street and DAZN would be wise to trust him. He's built his brand well and his matchmaking thus far in his career has been nothing short of stellar.
In terms of a fight… Anthony Dirrell is coming off a loss. The worst loss of his career. You can make the case that Dirrell was boxing well heading into the middle rounds, but zooming out on the situation reveals the cold hard truth.
Dirrell is now 35. He's prone to cuts that end fights prematurely whether he's winning or otherwise. When Benavidez kicked it into 5th gear, Dirrell was woefully unable to do anything to stop the bleeding both figuratively and literally.
This gets a C because it can certainly be worse. Dirrell is at least a full-fledged super middleweight, there's enough of a story to tell, and Dirrell has some popularity he'll bring to the table. Half the guys on this list cannot boast these attributes.
Sergey Derevyanchenko, B
This is without question the acceptable stay busy fight. It's one that makes a lot of sense too if you understand Canelo's history.
Canelo's dislike for Gennadiy Golovkin has become personal. There is no love lost between the two and a storyline where Canelo wants to demolish the guy that Golovkin could barely scrape by with a decision would certainly be another step in the emasculation of Golovkin by Canelo Alvarez.
Billy Joe Saunders, C+
This is a hard one to grade. Billy Joe Saunders is a talented fighter, but thus far the best win of his career is that dreadful fight with David Lemieux. Saunders has shown flashes of absolute brilliance in his career, but you have to drudge through a lot of dreadful fights in order to find them.
This was a fight that was already signed, so it shouldn't be too hard to rekindle, but in terms of the quality of this fight. Skill? good. Entertainment? Possibly the worst on the list.
If I was picking fights I most wanted to see, this is probably #1.
Callum Smith, B-
This was an A fight last year. Maybe even A+… but then Callum faced John Ryder and things quickly went off the rails. Smith had his hometown crowd booing him as his hand was raised in victory.
Going directly into the Canelo fight is probably not the best move. Yeah, Derevyanchenko is actually coming off a loss, but he got a moral victory and had all the momentum in his favor as that fight came to a close. It's the reverse for Smith. It was a degrading fight where all the wind was taken out of his sails as the fight came to a close.
David Lemieux, D+
This isn't a good match-up, but it's an available one. Lemieux is the Golden Boy contingency plan that nobody wants.
Gennadiy Golovkin, B+
Golovkin has looked vulnerable recently, but he can still hold his head high knowing that there are those out there that will argue he should hold 2 victories over Canelo Alvarez.
This can be sold and very likely we'll get the most entertaining of the three fights with an older and more vulnerable Golovkin against a more experienced Canelo who's won titles in two weight classes since their last meeting.
This is the fight DAZN has circled as the building block of their start-up. At one point in time that might have been accurate, but time has passed and at this point this fight not be much bigger than any of the other juicy fights on the list.
Jaime Munguia, C-
There is no evidence to suggest Munguia is going to be any better at 160 than he was at 154. There is even less data that would lead us to believe he could beat a top 10 opponent at 168, let alone the best fighter in the world. This would not be a good matchup for either Canelo or Munguia.
Caleb Plant & David Benavidez, A+
Plant and Benavidez are included together because this should be the long-term plan. While these guys are certainly in the running right now, it might make more sense to plan for a round robin between these three after Plant and Benavidez have both elevated their profile just a bit more.
Whether they do the fights now or later, what cannot be denied is that these are the best fights for Canelo at the moment. It might be worth coming to some agreement similar to the one we read about with Tyson Fury and Anthony Joshua where they set a timeline of then the fights will take place.
Willie Monroe Jr, C
There is a slight buzz around Monroe as a possible opponent. This would be just as bad as the Saunders fight in terms of a stylistic matchup.
Dmitry Bivol, C+
Bivol is an opponent that would deliver a salivating style clash for hardcore fans. The only problem is that outside of a small group of boxing savants, nobody would care about this matchup. Those who've heard of Bivol probably know how tiresome watching him can be.
Jermall Charlo, A-
This one probably won't happen for a lot of reasons. Mostly because Canelo isn't going come back down to 160 ever again and it may not be advisable for Jermall Charlo to go straight into a Canelo fight at 168. Jermall's path may cross with Canelo at some point, but it doesn't look like it in the short term.
However, if they were to pull a Jermall Charlo out of their hats it would be absolutely welcomed. Charlo's a middleweight who has waited a long time for an opportunity at the top. He's been the victim of being the last man standing as others made chess moves on the board to secure big fights.
The Field, D
Who else is there? Demetrius Andrade? That's another C-. John Ryder? C-.