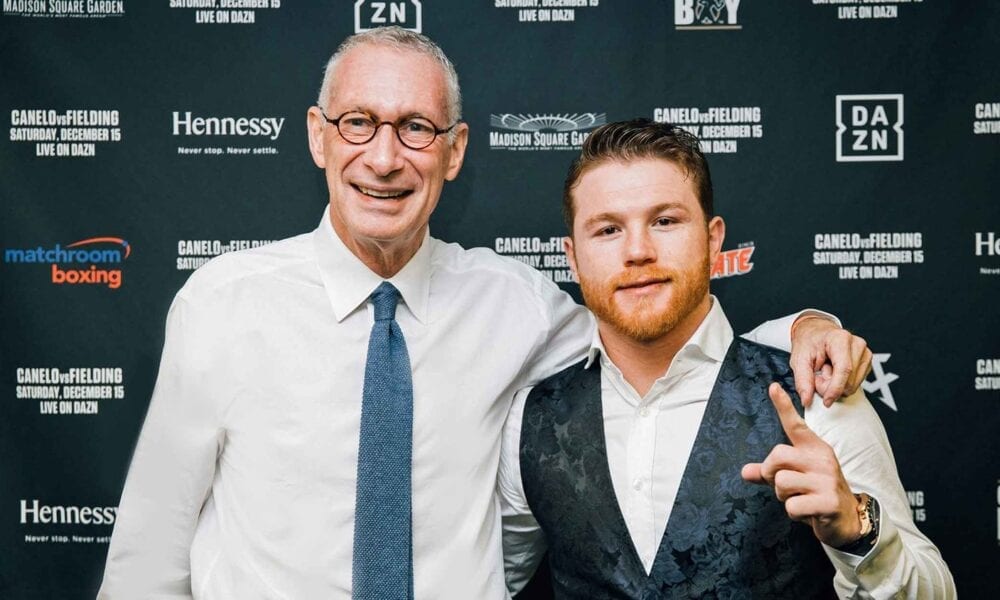 Amanda Wescott/DAZN
Canelo Should Pass on DAZN's Deal
By Fred Garvin on Friday, September 25, 2020
Despite the fervent claims on social media that Canelo Alvarez's legal team didn't know what they were doing when they filed their lawsuit claiming breach of contract among other charges against Golden Boy Promotions, Oscar De La Hoya, and DAZN; the real question was what the true intent of the filing was. Did they include the limited liability companies as a means of getting jurisdictional discovery in order to find out the members of DAZN's myriad structure or did they include the LLCs knowing it would be dismissed with leave to amend in order to signal to DAZN and GBP that they were willing to pursue a lawsuit?
Either way, the filing seems to have brought all parties to mediation with a claim as detailed in The Athletic that DAZN was now offering $20 million per fight with an "upside" tied to the subscribers that sign up to watch Canelo after a particular number was hit. This of course would be a very idiotic choice for Canelo to make if he agreed to these terms.
According to Canelo's filing, he has no contract with DAZN in any form. His only tie is an agreement with GBP that they have an agreement to air Canelo's fight on DAZN. The only other contract Canelo has is one with GBP and Oscar who has personally guaranteed Canelo $35 million minimum per fight with additional stipulations that the gate money is split between GBP and Canelo. To fight someone like Gennady Golovkin, Canelo was offered an additional $25 million minimum. Earlier this year, DAZN gave anticipatory notice to GBP that they were not going to meet the terms of their deal. For some reason, GBP never took action against DAZN despite the breach putting GBP and Oscar in a position where they would be in breach of their contract with Canelo and liable to pay out the entire amount remaining on their contract. Currently pegged at $280 million.
For Canelo to accept a new offer at $20 million-plus more promises of "upside" would be a monumental mistake. DAZN already reneged on their deal once, why would anyone in their right mind trust them to stick to a new set of conditions? I hope Canelo does not make the same mistake that most boxers have over the years and agree to these terms where he will essentially now be trying to earn his previous guarantee. Even if he's successful at driving subscriptions to meet his former guarantee, the only ones to really benefit will be DAZN as they unload their company onto the public markets and take in billions after shortchanging Canelo on his original pact.
This is the comedy of DAZN crying poverty. They are financed by Len Blavatnik, a man with an estimated net worth of $33 billion USD. While goofs are crying about the pandemic and how Canelo should stop being greedy, maybe they should pay attention to the fact that in the middle of the pandemic Len took his other property, Warner Brothers Music, to the public markets and raked in billions while giving up almost no control of that business. The man with a yacht that costs as much as Canelo's $350 million contract is saying times are too tight!
But this is the bind that boxers find themselves in, they have a very limited window in which to earn and there are far too many voices telling them to take the deal in front of them without any concern over how much money the other side is making off them.
For someone like Canelo, the prospect of being back on the open market free of GBP is far more sensible than languishing on an app that is more than likely going to file another anticipatory notice of breach of contract as their business continues to decline. Walk free, Canelo. Don't stay shackled.